The 7 Best Mini Washing Machines of 2020 - Get Acquainted with Trusted Expert List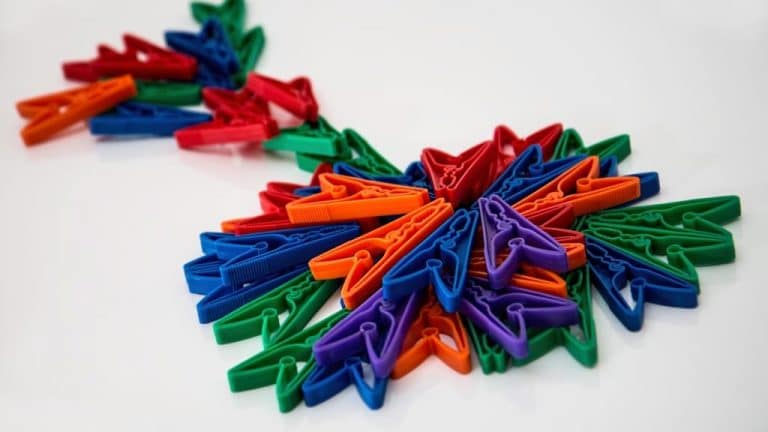 LAST UPDATED: DECEMBER 18, 2019
Quite likely, you have a whole pile of dirty socks waiting for you right now. And your hoodie for jogging is soaked with sweat. And what about your favorite evening dress? Does it still have a few wine stains on it? Washing clothes can be a nightmare. Especially if you're always on the move. So, here's a possible solution: a mini washing machine. Our little guide will help you to pick one. Look through trusted models of the best portable washing machines.
Our Top 7 Best Mini Washing Machines: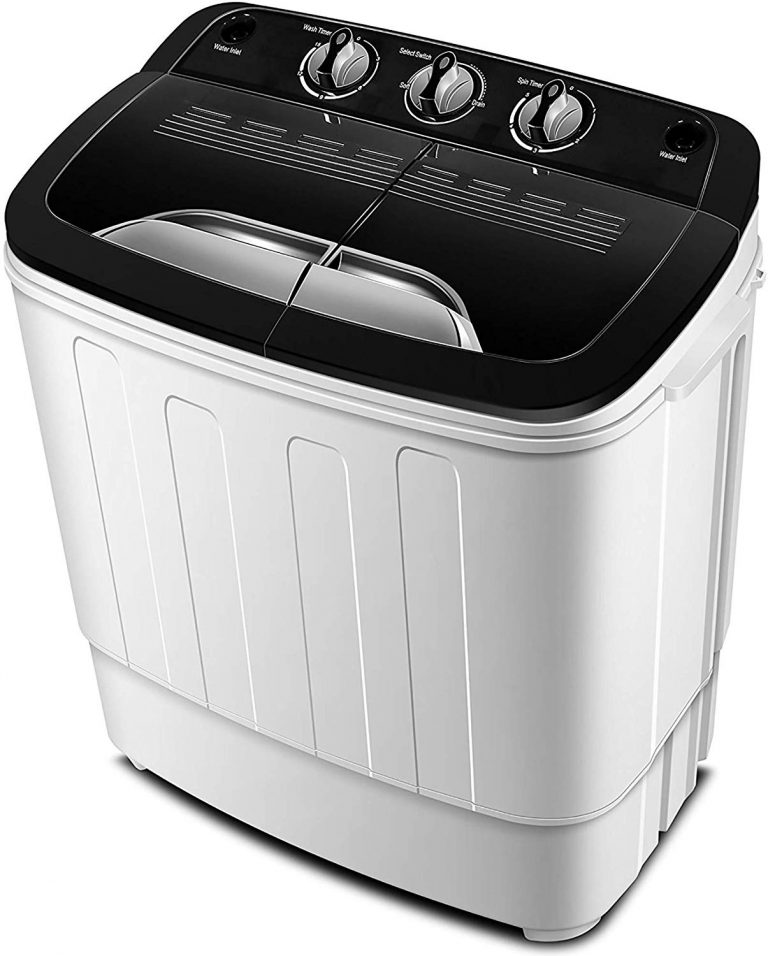 Lightweight and compact appliance for best results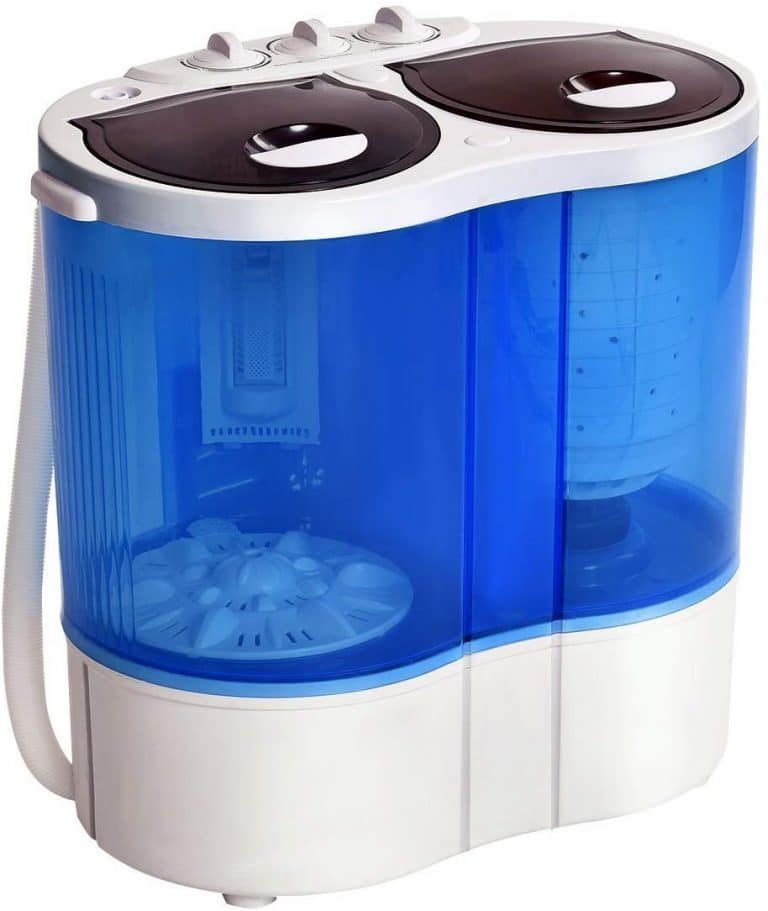 Mini double-tube washing unit easy in use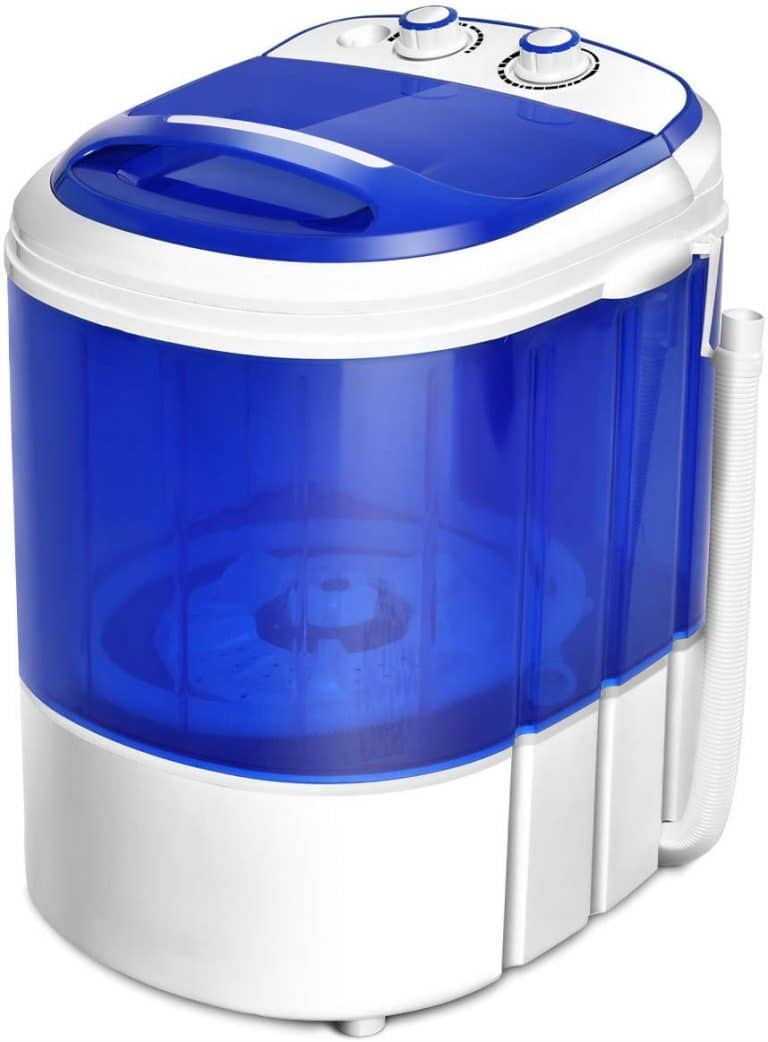 Washing machine featuring 7 lbs capacity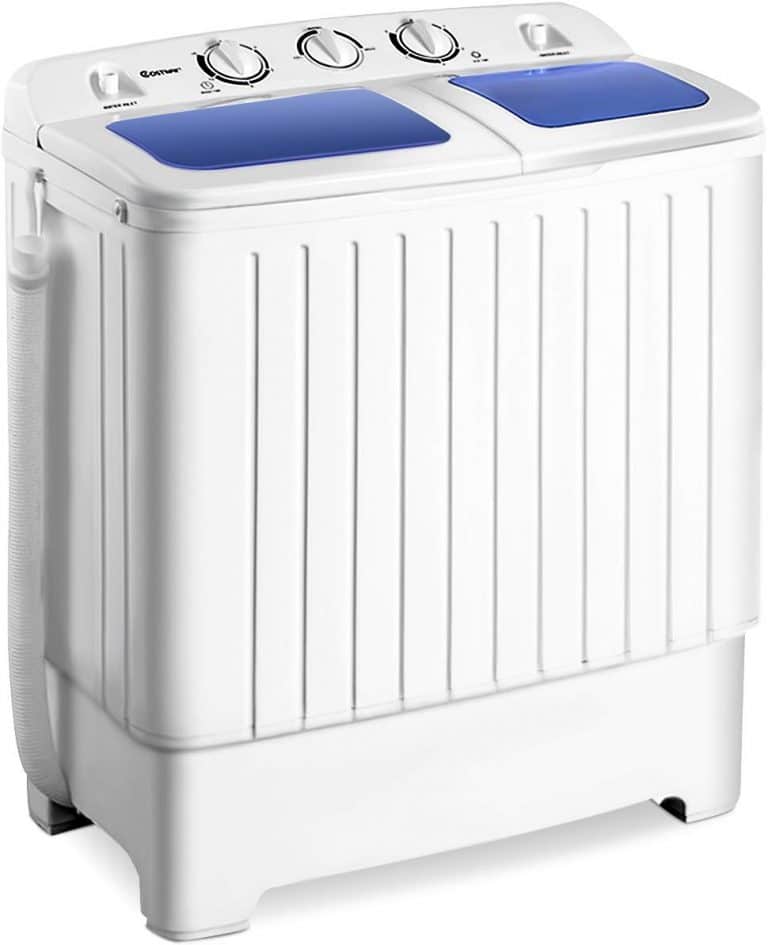 Features high-capacity, energy-saving and stylish design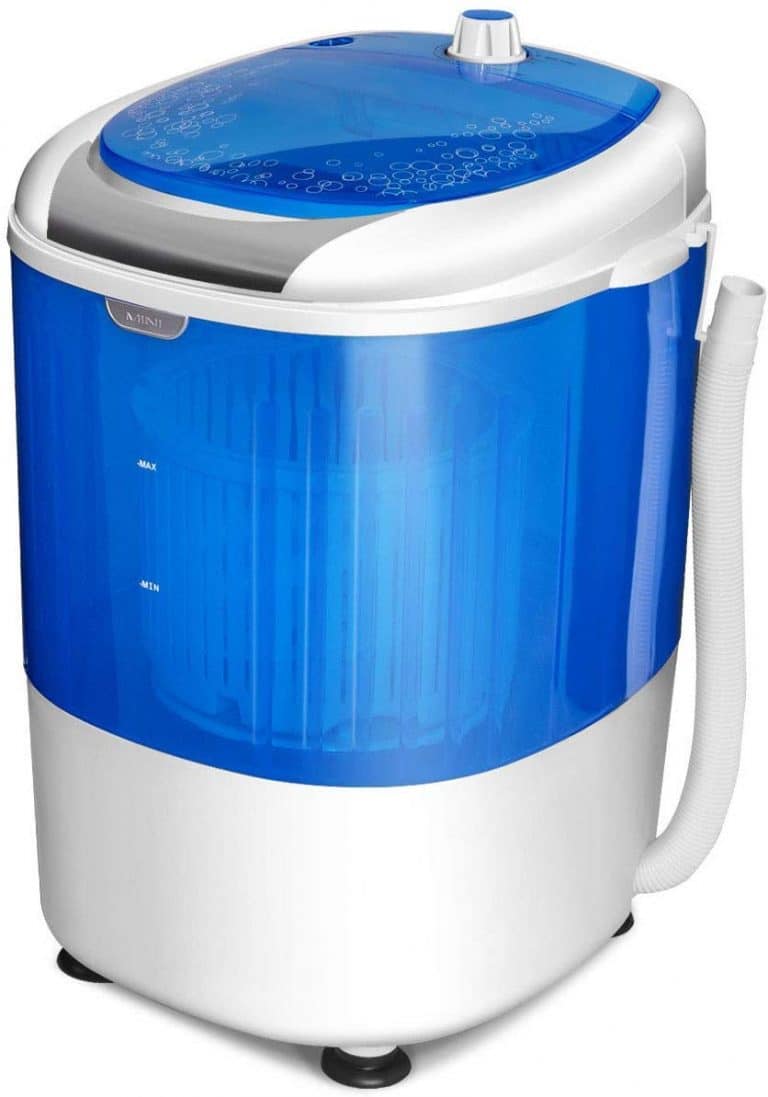 22.4 x 15.9 x 14.6 inches
High-qualty if wash and spin guaranty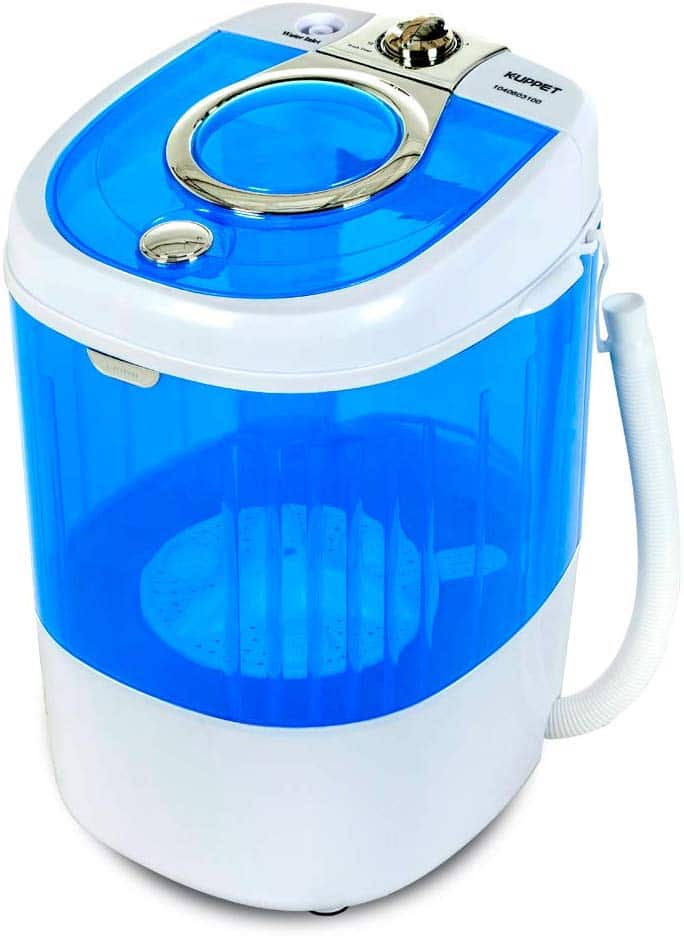 Single-tube washing machine, efficient and quiet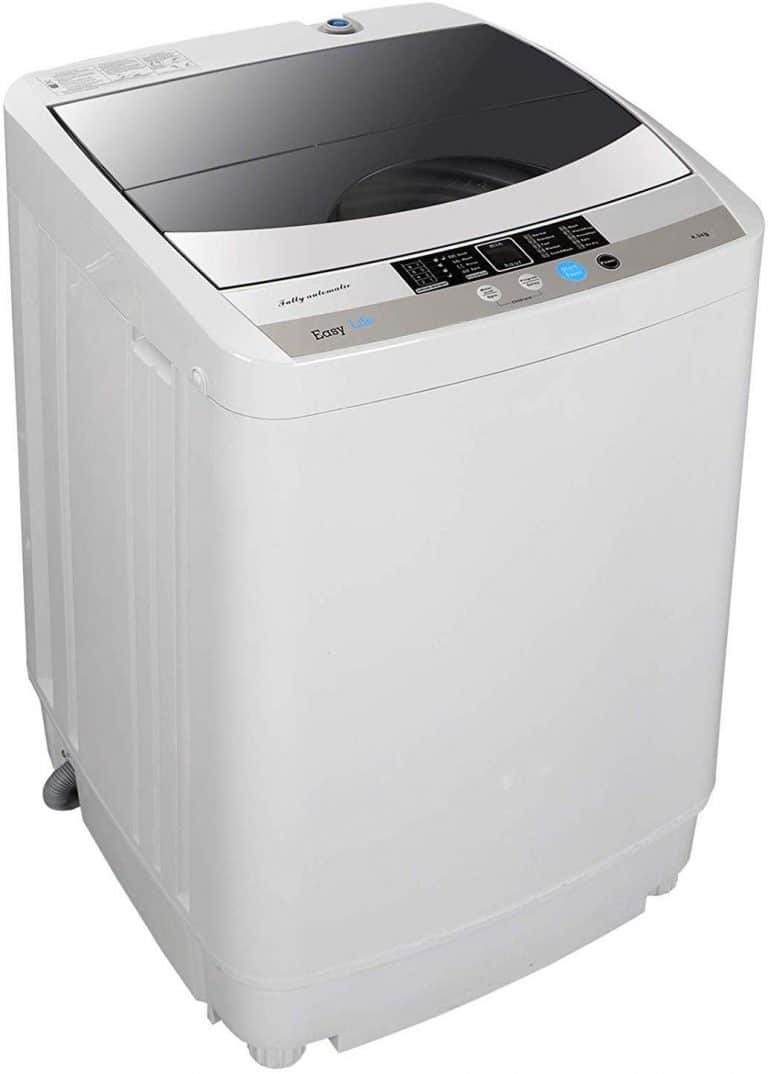 Stylish, compact and functional washing machine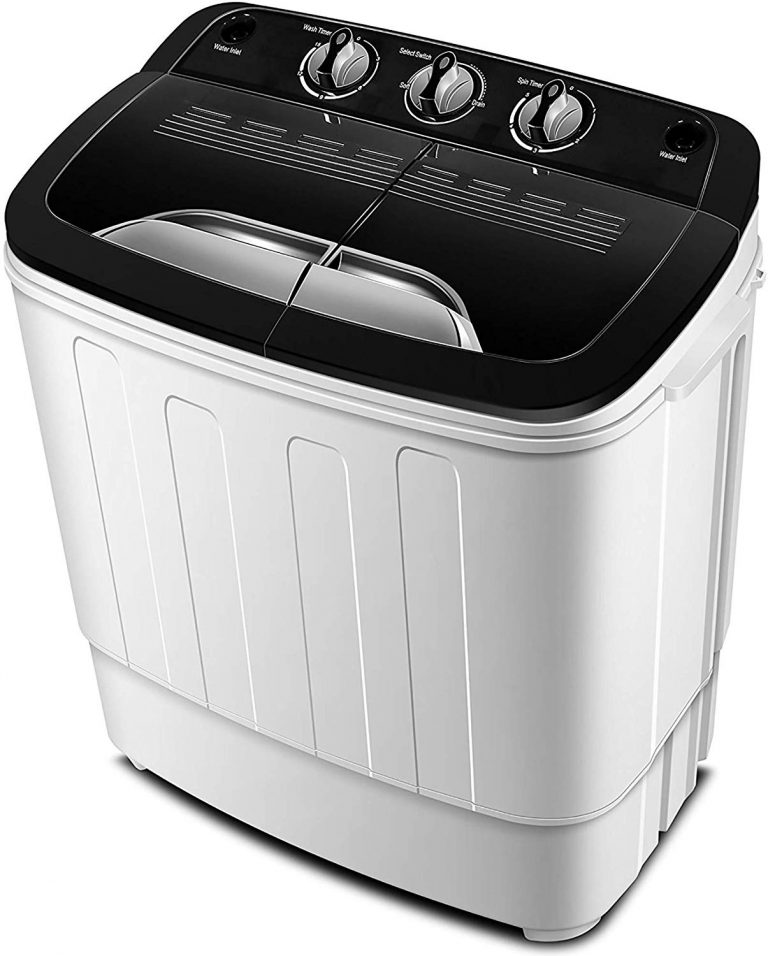 | | |
| --- | --- |
| Quiet: |   |
| Size: |   |
| Hardware: |   |
| Price: |   |
TG 23 is a peculiar beast. This mini washing machine can boast of a compact size: 23.6x15x27.2 inches. But it offers much more than its humble appearance. First, TG 23 can capacitate up to 3,6 kg of your laundry. Second, it has two different tubs: 1) for washing 2) for drying. In the spin-drying mode, it can handle up to 2 kg of shirts and socks.
Soft and hard clothes washing requires about 15-20 minutes. The spin cycle takes only 5 minutes. After you're done with drying, clothes will be a bit damp, so some airing out is necessary. And you can also customize the washing cycle for more convenience.
TG-23 mini washing machine is also a tough beast. It's made of composite plastic material, so it's not afraid of bouncing around on the road. Its nett weight is 27 pounds only (ca. 12 kg). It's a perfect choice if you need a mini washing machine with dryer for a motor home, camping, or RV.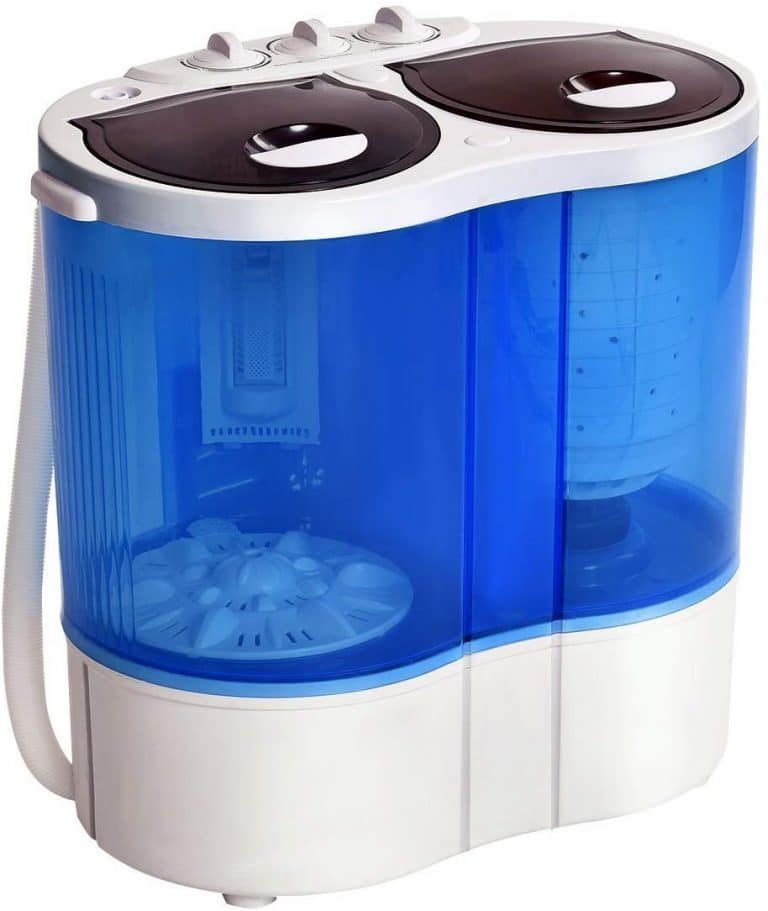 | | |
| --- | --- |
| Quiet: |   |
| Size: |   |
| Hardware: |   |
| Price: |   |
This mini washing machine merges a) elegant design, b) impressive capacity, c) rational resource consumption.

Giantex is one of the 'cleverest' mini washing machines, so to say. The thing is, it has smart programs that let you go easier on your electricity and water bills. If you have a pile of laundry to deal with — use a power wash cycle. If it's just one pair of jeans or one jersey t-shirt — select another mode so that no resources will be wasted.

Apart from being smart, Giantex portable mini washing machine is quite strong. Its capacity includes about 4 kilos for a washing cycle and nearly 3 kilos for spin-drying. With its compact size and modest weight of 23 pounds (ca. 10 kg), this mini washing machine is a good fit for a small apartment.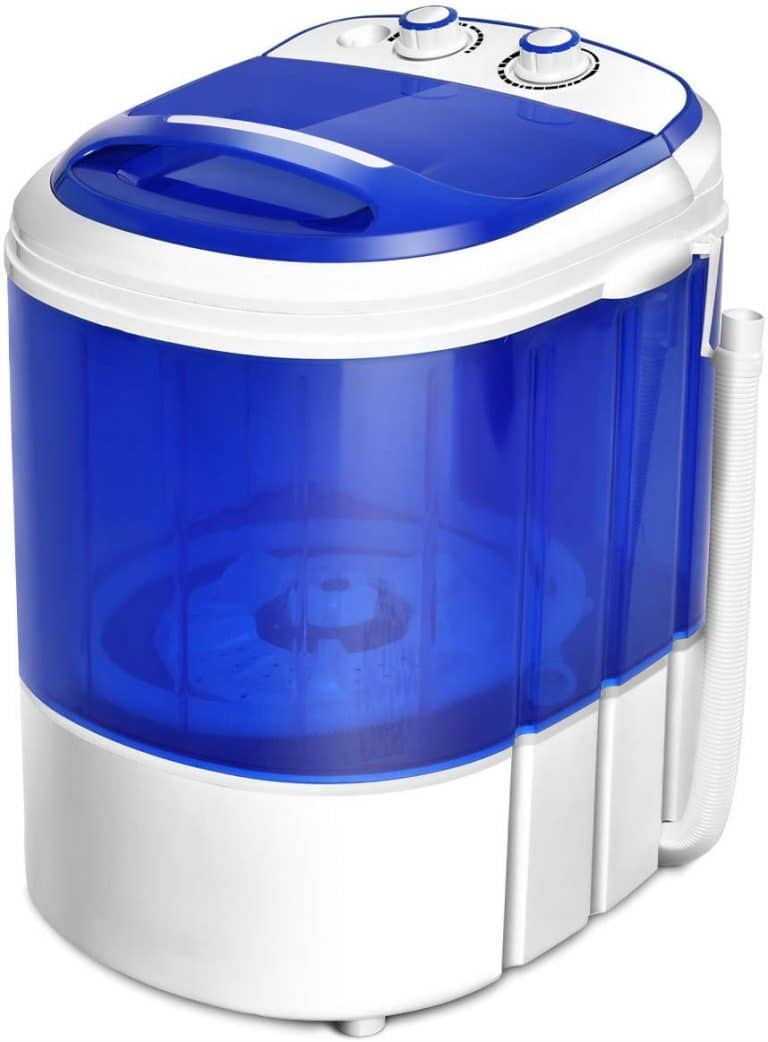 | | |
| --- | --- |
| Quiet: |   |
| Size: |   |
| Hardware: |   |
| Price: |   |
This mini washing machine is laconic and simple. It will take care of 4.7 kilos of your dirty shirts, towels, and pajamas. Throw the laundry in, fill it with water, and set the timer. Note: you can use the shower attachment to supply this mini washing machine with water.

With its 14x14x20 inch. size it's a real treasure for students living in dorms, travelers, and people who need to watch their budget. Although there is one issue: Costway mini washing machine has no spin dryer. So you'll either need a separate drying gizmo or you can use a good old washing line and warm air.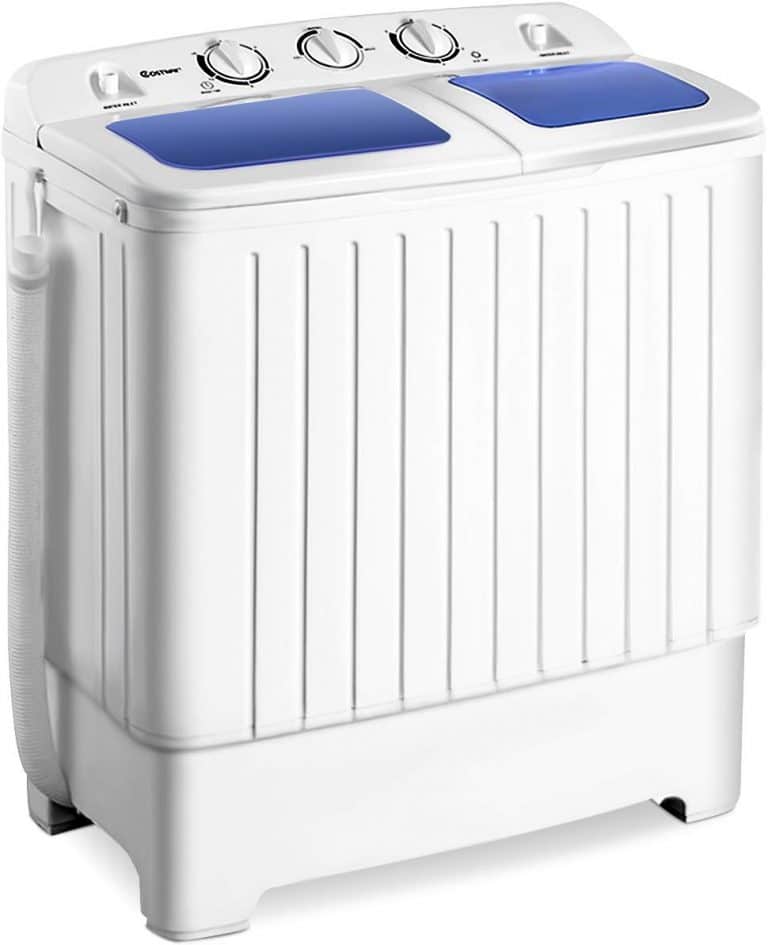 | | |
| --- | --- |
| Quiet: |   |
| Size: |   |
| Hardware: |   |
| Price: |   |
Another Giantex mini washing machine, this device can chew a big chunk of laundry: up to 4.9 kilos at one cycle! What's even better, Giantex will finish bathing such a pile in 15 minutes with two modes: normal and soft. You also get a Drain option. And if it's not enough, a tweakable timer is at your service too.
This is a mini washing machine with dryer. It needs only 5 minutes to dehumidify your clothes. Apart from its compact stature — 31x27x16 inch. — Giantex mini-washing machine also rocks an eye-pleasing design of white and blue colors. Couple it with a powerful 300w motor and you get a mini washing machine that is a lightweight champion.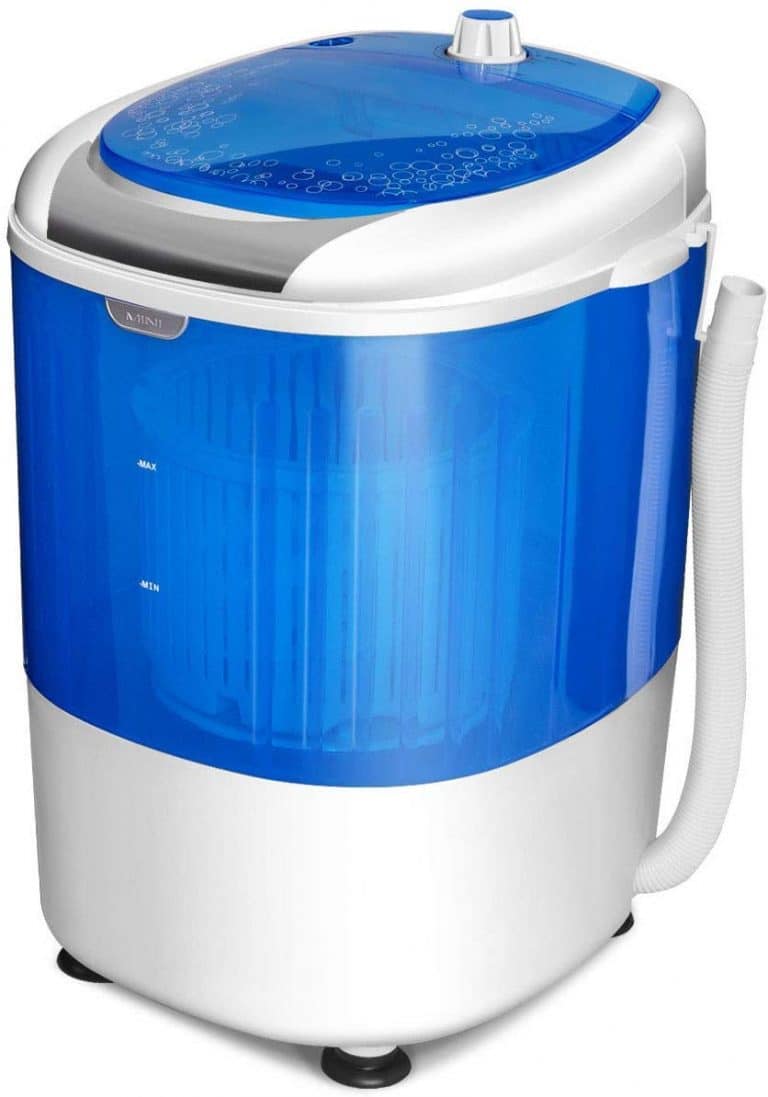 | | |
| --- | --- |
| Quiet: |   |
| Size: |   |
| Hardware: |   |
| Price: |   |
If you want to achieve good results with a bit of water and soap — this mini washing machine is your call. This workhorse deals with small piles of laundry per one cycle. It works best with a 10-minute wash —> drain —> rinsing sequence.

As a mini washing machine with a dryer, this model dehumidifies your garments fairly quick. It's about 5 minutes. The dryer efficiently deals with t-shirts, jeans, pillowcases, and sweaters. Another advantage you may appreciate is its water inlet adapter. Connect the unit to your sink and forget all troubles. Save another trip to the laundromat with the Costway mini washing machine.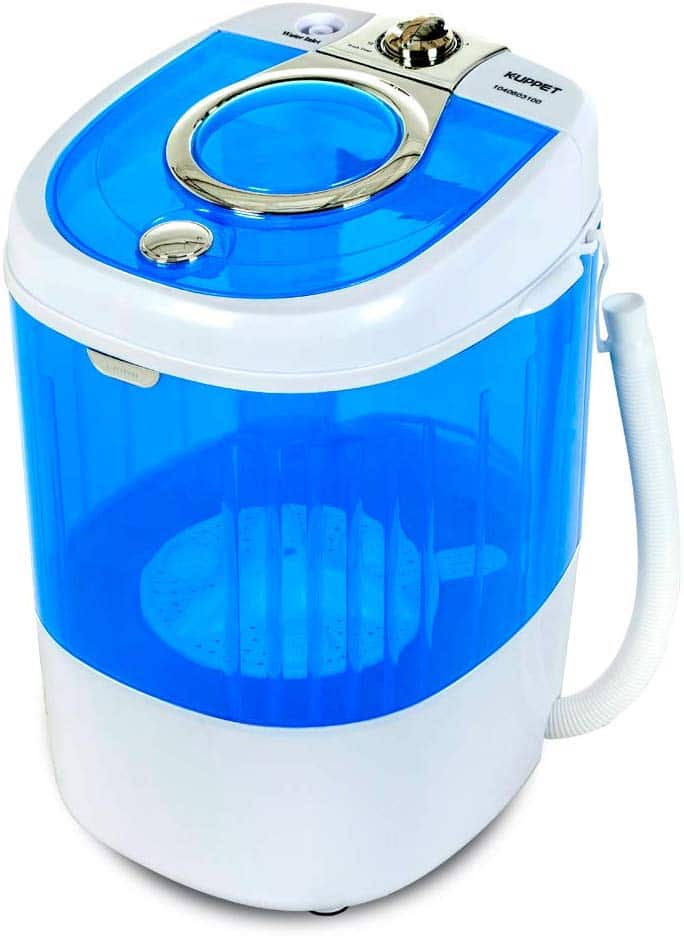 | | |
| --- | --- |
| Quiet: |   |
| Size: |   |
| Hardware: |   |
| Price: |   |
Kuppet is a nice mini washing machine that kills two birds with one rock. First, it washes clothes at a 3kg capacity in 15 minutes. Second, it seems to be the only portable mini washing machine strengthened with a dryer. In this price segment.

It has a 240W motor, which doesn't make this mini washing machine too loud. And when it's done purring, transfer the clothes to the drying section and wait for 5 minutes. Clean and slightly damp garments and linens will be your reward. With its minimalistic size and small weight, you can move Kuppet mini washing machine around. No sweat.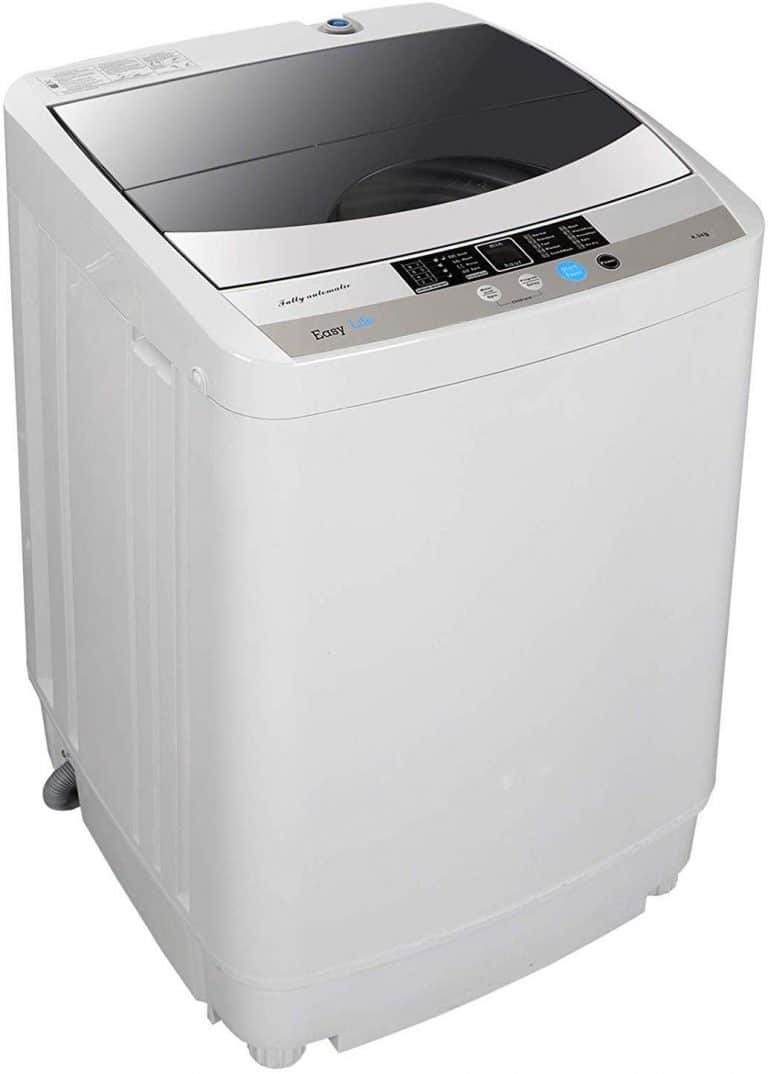 | | |
| --- | --- |
| Quiet: |   |
| Size: |   |
| Hardware: |   |
| Price: |   |
HomGarden is a mini washing machine and dryer at the same time. Its 210W engine allows you to load in a good deal of laundry — 4.5 kg at once cycle. At the same time, it doesn't disturb the home atmosphere with pesky noise.

This mini washing machine is a bit heavier — almost 20 kg. That means its weight won't let it jump or 'dance' during both cycles. At the same time, it's still perfectly transportable, unlike a full-scale analog. It's compatible with your sink, so you won't need to craft any adapters. The honeycomb inner tub guarantees that your underwear, pants, and duvet covers will be squeaky clean. It's a mini-washing machine that's worth an investment.
Guide to Buying the Best Mini Washing Machine
Let's find the answer to the most often questions from purchasres. Read it thorough;y ij order to use during choosing suac an appliance.
What is the smallest size of a mini washing machine?
It depends. If we are talking about just a mini washing machine, then Costway seems to be the winner with its dimensions of 14x14x20 inches. But if you'd like to have a miniature mini washing machine and dryer as one gadget — Best Choice Products Portable Compact Mini Twin it could do the trick.
How do you use a mini washing machine?
A mini washing machine isn't much different from its big-size cousins. You need to keep in mind a few nuances:
Use a soft detergent.
Don't neglect presoaking.
Connect drainage tube to the sink.
Separate your laundry into smaller piles.
Don't overheat the motor with too many cycles.
A mini-washing machine must have a tap adapter.
These rules will help your mini washing machine live a longer and happier life.
Which is the best portable washing machine?
Before choosing a mini washing machine, you should consider how big your apartment is. Whether you plan to move/travel or not. Do you have a family or leave alone? Got any plans to wash your clothes very often or not?

For instance, Giantex Twin Tub would be a wonderful mini washing machine for a small family. It can do two cycles at the same time and also knows how to handle delicate things.

Costway mini washing machine is a great choice if you're an avid traveler. This gizmo is compact, reliable and lightweight. Kuppet is a perfect solution if you're on a shoe-string budget. This mini washing machine costs around $90 but doesn't fail to impress with its design and solid power cycles.
How does a portable washing machine work?
The beauty of having a mini washing machine is that you don't need to throw another $100 on installation. Instead, you can attach it to your water tap with a rubber hose and get to business right away.

But this is where a mini washing machine reveals a weak spot. Some models don't have a special adapter or even need a manual drain. When you begin a hunt for a mini washing machine, pay attention to these details.

Another important nuance is about the sanitation of your mini washing machine. The problem is that portable units don't get the water hot enough to kill pathogen microbes. It's recommended to keep it open for about an hour after you're done with it. Apply the likes of Corox 2 when doing laundry. And once or twice a month, clean your mini washing machine with bleach.

Follow our tips, and you'll find a unit of your dreams in no time.
Machineswash.com (c) 2020
machineswash.com is a participant in the Amazon Services LLC Associates Program, an affiliate advertising program designed to provide a means for sites to earn fees by advertising and linking to Amazon.com.