The 17 Best Countertop Dishwashers of 2023 - The Most Efficient and Compact Solutions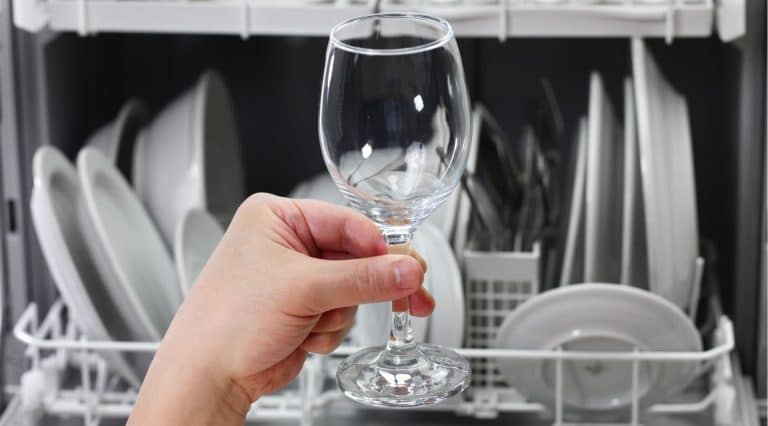 Last Updated: October 26, 2020
Modern dishwashers combine a stylish look, high efficiency, low resources consumption. Compact portable solutions are mostly demanded. We invite you to familiarize with the best small dishwashers (portable type) that may be met on sale today.
Our Top 17 Best Countertop Dishwashers
Trust our expert team and discover the list of the best compact portable dishwashers
A thorough technical and external characteristics analysis allowed us to make a definite verdict for each of the products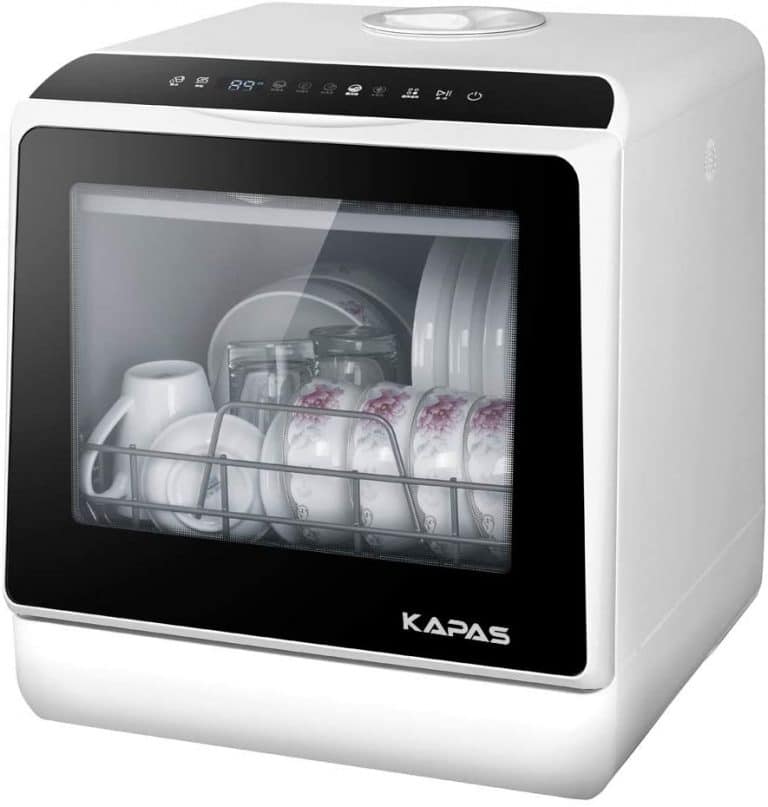 Dimensions: 17.5″ x 16″ x 16″ (H x W x D)
Capacity: 6 place settings
Cycles: Standard, Quick, Strong, ECO, Fruit and DRY
Finishes: Plastic
Type: Built-In
The KAPAS dishwasher is one more compact kitchen assistant that can be easily moved from place to place when needed (portable one). This mini countertop dishwasher offers 6 program types to choose from. These are Standard, Quick, Strong, ECO, Dry, and Fruit. Washing time varies (20-90 minutes) and depends on the cycle chosen. After having washed and dried the dishes, you may select the option of fresh air circulating (it lasts up to 73 hours). The digital control panel makes the device tuning even more comfortable and understandable. The water level is indicated automatically.
The reviewed small countertop dishwasher has all the additional accessories – hoses (in case you prefer the direct connection to a water source), a convenient set for dishes, fruit basket. The dishwasher permits to place almost all the dishes types (including up to 12 inches in diameter, under an angle). One does not need to hook up the device because it features a built-in tank for water (5 liters capacity). Though the appliances' case is made of plastic, it is robust and hardy.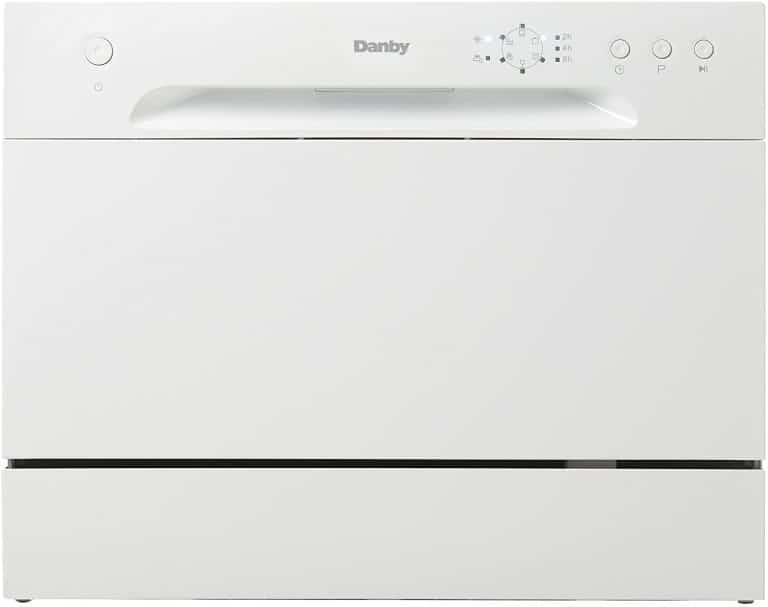 Dimensions: 17.24″ x 21.65″ x 19.69″ (H x W x D)
Capacity: 6 place setting
Cycles: Intensive, Normal, Economy, Rapid, Glass, Soak
Finishes: Steel
Type: Stand alone
This alone standing device is a perfect appliance from Danby. Look at its white steel case and modest control panel. It is user-friendly and, at the same time, laborious. The appliance suggests exploiting 6 available washing options (Economy, Normal, Intensive, Soak, Glass, Rapid). The overviewed Danby countertop dishwasher produces a low noise level during operation (52 dB).
Its display includes one basic (On/Off) and 3 additional buttons, through which the device is controlled (switching on and off, choosing the optimal washing mode, if necessary – pause). Its shy and minimalistic design will be highly appreciated by modern housewives. Besides, the product is highly demanded due to its profitable price tag. This is really a cheap countertop dishwasher, worth purchasing. The device consumes 3.1 gallons of water (if we are speaking about Normal cycle).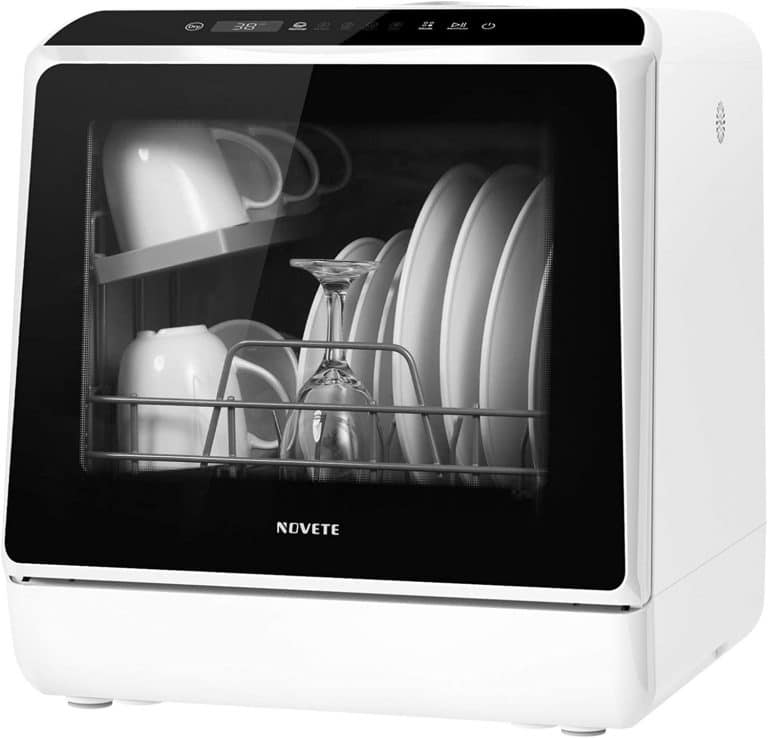 Dimensions: 18.05″ x 16.75″ x 16.86″ (H x W x D)
Capacity: 4 place setting
Cycles: Normal, Speed, ECO, Baby Care/Heavy, and Fruit
Finishes: Plastic
Type: Built-in
This dishwasher countertop type offers 5 intelligent washing options. The device may wash and dry (Air dry option available), either dishes or fruits. Also, it suggests careful and perfect baby dishes washing. It produces operating noise equal to 50 dB (rather quiet device). The appliance has a built-in tank for water (with 5 liters water capacity). Despite all the mentioned advantageous features, it also offers a dry option, allowing to keep your dishes perfectly dry after a thorough cleaning.
Also, the device may keep your dishes fresh using the special ventilating function (efficient odors eliminating). It has a 4-place setting for dishes and cups. The main advantage of this model is considered to be the simultaneous bottom and top water supply (while in the majority of the dishwashers, water is supplied from the bottom only).
Dimensions: 17.2″ x 19.7″ x 21.7″ (H x W x D)
Capacity: 6 place setting
Cycles: Heavy, Normal, Baby care, Light, Speed 45 min, Self-clean
Finishes: Stainless steel
Type: Freestanding
This Farberware countertop dishwasher is a perfect solution for tiny-sized dwellings. It features an easy faucet connection, compact design, 6 smart washing options, 6-place setting for all the tableware types), intelligent protection from children (special lock option). This is really the best countertop dishwasher, although due to the stylish appearance (classic design), it will ideally fit any kitchen interior. The represented portable countertop dishwasher has a Self-clean function – it allows to clean the device thoroughly from the inside.
High water temperature guarantees germs and bacteria destruction, providing you with perfectly clean and safe surfaces. Besides, the presented appliance may offer you no less convenient and actual Quick wash option. It is simply irreplaceable, especially in situations when you need to wash the dishes quickly and get an impeccable result in the shortest possible time (crystal clear dishes). Such Farberware countertop dishwashers are in high demand also due to individual device customization. Choose the preferable washing cycle type (Light, Normal, Heavy, etc.) and be sure to get the best results!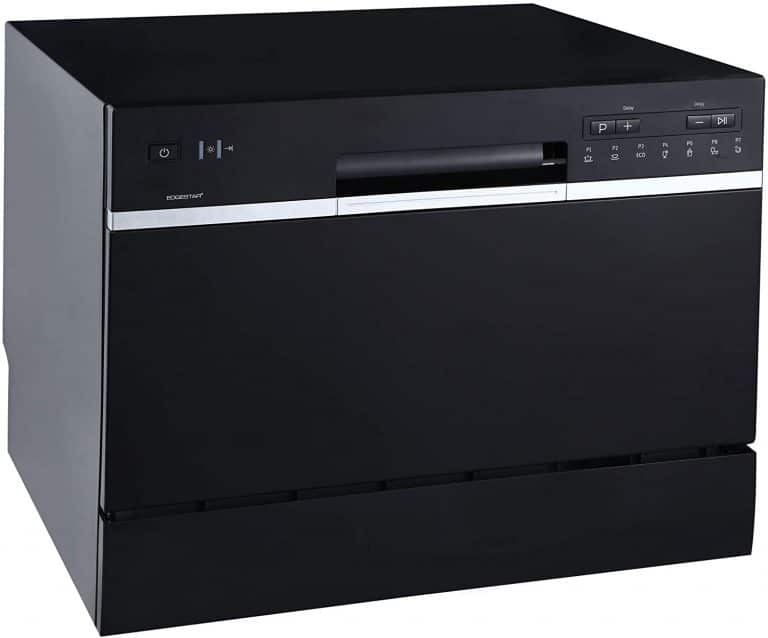 Dimensions: 17.31″ x 21.63″ x 19.63″ (H x W x D)
Capacity:  6 place setting
Cycles: Heavy, Normal, Light, Glass, Baby Care and Bottles,  Speed, Rinse
Finishes: Black stainless steel
Type: Freestanding
Did you know that even the portable dishwasher may be fashionable enough to complement your modern kitchen set? This Edgestar countertop dishwasher has a 6-place setting and 7 washing cycles.  Each of them guarantees the perfect dishes cleaning from food debris, prints, and even dangerous bacteria. The presented black countertop dishwasher may be a perfect addition for a kitchen set, kept in the dark colors.
The appliance is durable and strong due to the reliable mechanisms and robust stainless steel case. It operates quietly, featuring up to 52 dB noise. This mini dishwasher countertop is economical enough, consuming 2.8 gallons of water (per 1 normal cycle). Note that the device may operate with special detergents for dishwashers only. The presented appliance allows washing various dishes with 10.5 inches diameter.
Dimensions: 17.3″ x 16.5″ x 17.3″ (H x W x D)
Capacity:  2 place setting
Cycles: Normal, Rapid, Fruit Wash, Baby Care and Glass
Finishes: Plastic
Type: Built-in
This attractive dishwasher from the Farberware brand has an original black and white case design. The appliance is portable, so, allows to be installed and exploited in apartments, compact dwellings, RVs, etc. 5 washing cycles create an individual washing approach. The device permits to wash dishes with up to 12 inches in diameter. It features a roomy, capacious water tank (up to 5 liters).
Apply one of the 5 available washing options, carefully selected by the manufacturer. Despite standard cycles (Normal and Glass), the Farberware dishwasher offers several innovative solutions – Fruit and Baby dishes wash, Rapid wash. The case of the appliance is made of strong, robust plastic – it is easy to clean. Give the device 30 minutes only, and get crystal clean dishes.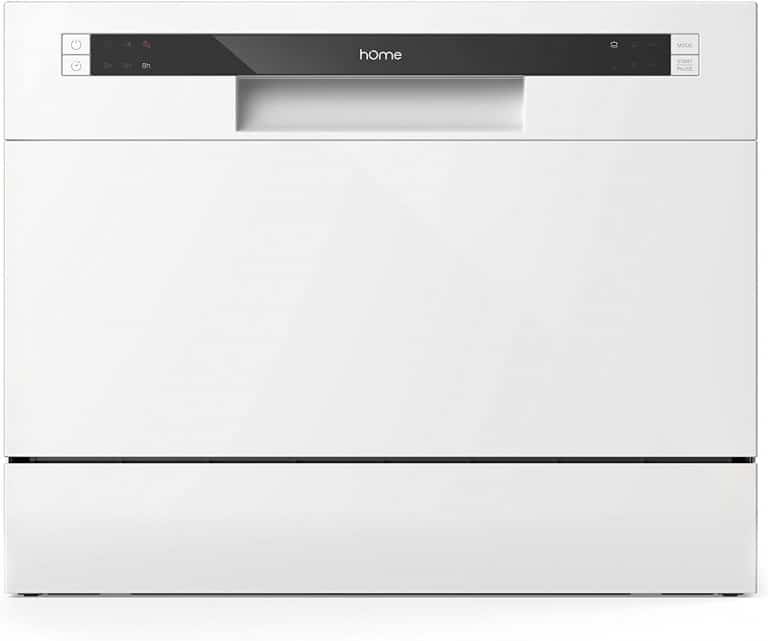 Dimensions: 17.2″ x 19.6″ x 21.6″ (H x W x D)
Capacity:  6 place setting
Cycles: Heavy, Normal, ECO, Glass, Speed and Rinse
Finishes: Stainless steel
Type: Stand alone
This Energy Star marked solution will perfectly add your compact kitchen. Even if you have no opportunity to install and exploit the builе-in devices, use this appliance. The presented Homelabs countertop dishwasher is really efficient and funds-saving – it consumes 3 gallons of water per one standard washing cycle. Just compare this number with hand washing (water consumption is equal to 25 gallons).
Featuring 6 washing cycles, the Homelabs compact countertop dishwasher appears to be the smartest home assistant. Use Rinse, Glass, ECO, Heavy, Normal, or Speed cycle, depending on the challenges issued. It may offer user compact case design, 6-place setting, user-friendly control panel. All the needed hoses and adapters are included. Use the Delay option in order to postpone washing when needed.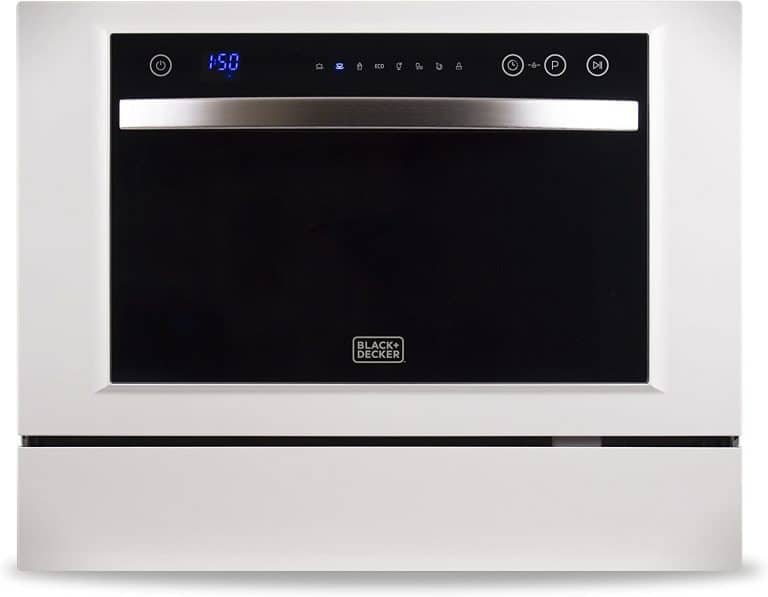 Dimensions: 17.2 " x 21.5″ x 21.7″ (H x W x D)
Capacity:  6 place setting
Cycles: Intensive, Normal, Eco, Glass, 90 Minutes, Rapid & Soak
Finishes: Metal
Type: Freestanding 
This model possesses a stylish white metal case, digital control panel, and a black door made of durable thick glass. It's operating noise is equal to 60 dB. The device has a 6-place setting for dishes (up to 10 inches in diameter). Such Black Decker small countertop dishwashers are distinguished by an attractive compact design, an intuitive control panel, proven efficiency (perfectly clean dishes, no food, and bacteria residues).
The product is Energy Star labeled, so it may boast of low energy and water consumption. Refer to any of the 7 available washing cycles. Each of them offers individual cleaning procedures (quick, standard, with additional properties, for instance – glass items cleaning, etc.). Its control panel features a minimalistic design. It is also added with a timer, announcing the start and end of the washing cycle selected.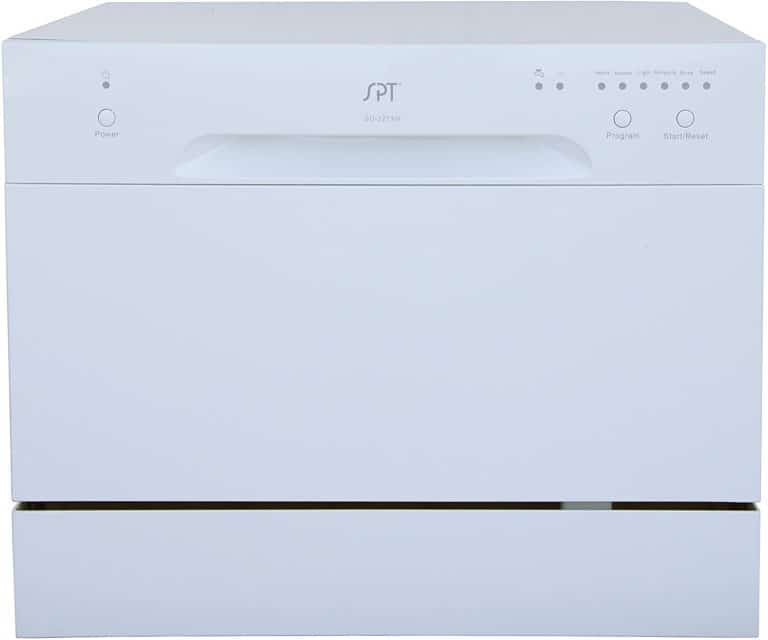 Dimensions: 17.24″ x 19.69″ x 21.65″ (H x W x D)
Capacity:  6 place setting
Cycles: Heavy, Normal, light, Miniparty, Rinse and Speed
Finishes: Stainless steel, iron, plastic
Type: Countertop
This 6-place setting dishwasher will attract you with its stylish white exterior (steel and plastic details combination), wide functions set, surprisingly low noise level (55 dB). The Sunpentown countertop dishwasher may be easily and quickly connected to your kitchen faucet (regardless of its type and design). The set includes a universal adapter and hose, allowing even an inexperienced user to install the device promptly.
Use one of the 6 available washing cycles, depending on how dirty the dishes are and the required cleaning speed (Light wash or Normal one). This alone standing device consumes up to 10.8 liters of water per one washing cycle (Normal). The appliance is ready to suggest you the Delayed start (choose between 2, 4,6, or even 8 hours). Intuitive LED display is easy to cope with.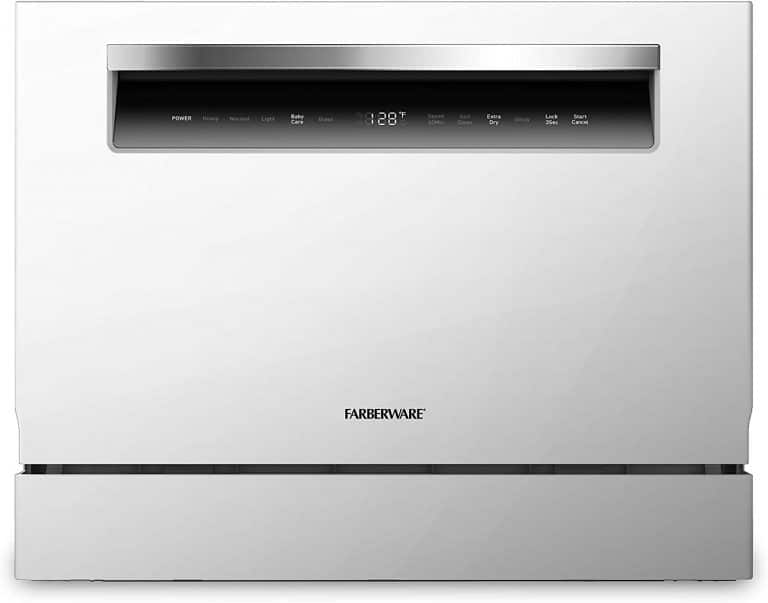 Dimensions: 17.2″ x 19.7″ x 21.7″ (H x W x D)
Capacity:  6 place setting
Cycles: Heavy, Normal, Baby Care, Light, Glass, Speed 45 Min, Self Clean
Finishes: Stainless steel
Type: Freestanding
This dishwasher is able to make your bravest dreams come true. Take advantage of the 7 washing cycles available in order to make the cleaning process as perfect and fast as possible. The stainless steel countertop dishwasher from Farberware brand features a 6-place setting for various dishes, compact and attractive design, 52 dB noise level (almost silent appliance).
The device has an assembly set for a fast connection. The manufacturer has offered 7 various washing programs for individual users' needs – special cycle for baby dishes, for glass items, for heavily and lightly soiled dishes, normal washing cycle, speed wash, and the most useful – self-clean. The last helps to maintain the ideal cleanliness of all the device's surfaces that are not accessible for standard manual cleaning. Also, one may apply an extra dry option, allowing to dry your dishes after cleaning and rinsing.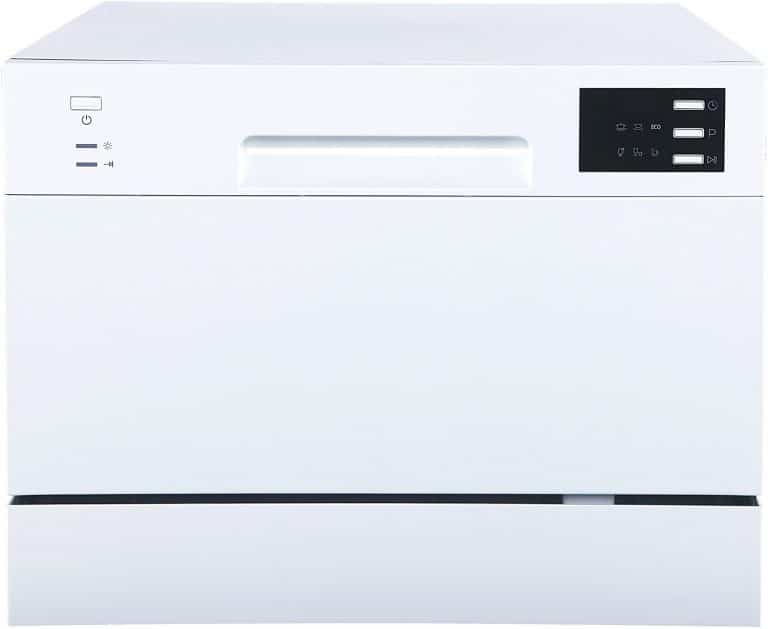 Dimensions: 17.24″ x 19.69″ x 21.65″ (H x W x D)
Capacity:  6 place setting
Cycles: Heavy, normal, ECO, Glass, Speed and Rinse
Finishes: Stainless steel
Type: Stand alone
This alone standing countertop dishwasher from SPT features 55 dB noise level, 6-place setting for dishes and cups, durable iron case, user-friendly electronic display. This SPT countertop dishwasher has a special warning indicator informing user about water supply demand. The presented product has an Energy Star Mark that guarantees modest electricity consumption.
The device has no food chopper, so the manufacturer recommends to rinse the dishes and bowls lightly before the main washing cycle starting. The drying option is aimed to dry all of your tableware thoroughly. The dishwasher has a universal type adapter, though, according to the users' reviews, one may need to purchase it additionally.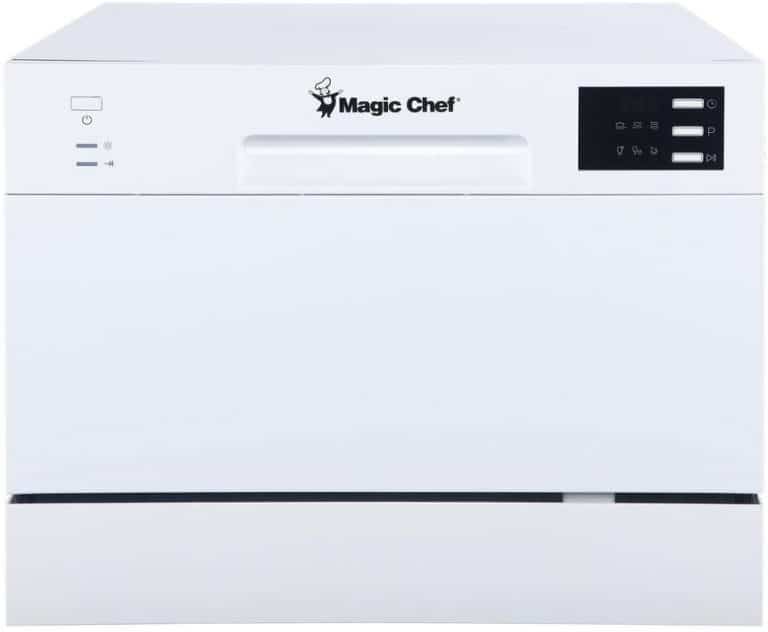 Dimensions: 17.2″ x 19.7″ x 21.7″ (H x W x D)
Capacity:  6 place setting
Cycles: Heavy, Normal, Light, Speed, Glass and Rinse
Finishes: Plastic
Type: Stand alone
The observed dishwasher from the Magic Chef brand has a 6 place setting for various tableware items and 6 available washing programs, each perfectly fitting your individual needs. The Magic Chef countertop dishwasher has a digital display depicting the current device's state (on/off) and the washing regime selected. The device's package includes a special installation set (inlet and outlet hoses, universal adapter).
This makes the installing procedure fast and easy. The Magic Chef Energy Star 6-place setting countertop dishwasher will surely delight you with the extremely low energy consumption. It also takes little water (this point will positively affect your monthly bills). This stand-alone device is a wonderful solution for small dwellings. It saves place in your kitchen and helps to cope with dirty dishes cleaning nobly.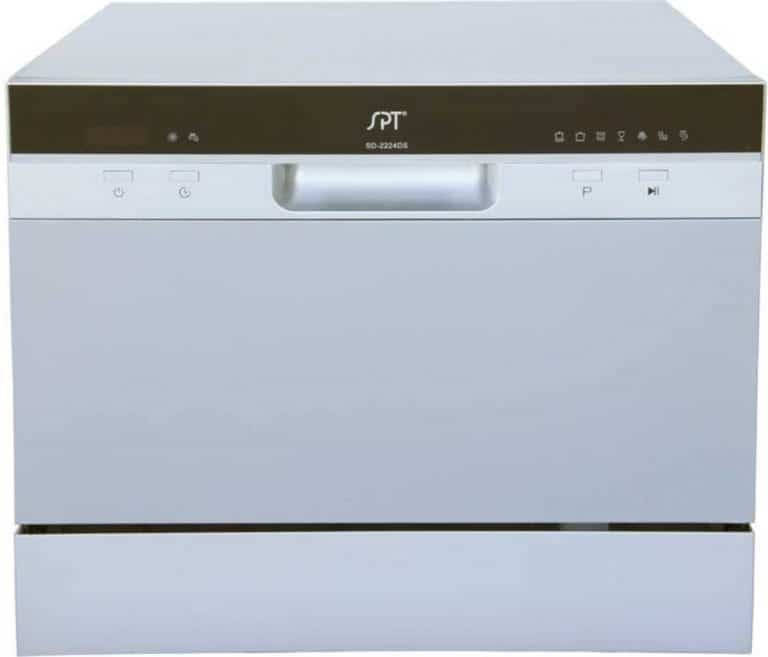 Dimensions: 17.24″ x 19.69″ x 21.65″ (H x W x D)
Capacity:  6 place setting
Cycles: Heavy, Normal, Light, Mini party, Rinse, Speed and Soak.
Finishes: Stainless steel
Type: Stand alone
Welcome the one more modern dishwasher model from the reputable SPT brand. It may boast of incredibly quiet operation (55 dB), capacious tray for dishes (plates, bowls, cups, cutlery), attractive design kept in the classic mood. The SPT countertop dishwasher silver body is made of durable iron, so it will perfectly withstand any loads.
The presented product is a stand-alone device, permitting you to forget about dirty dishes accumulation. It will kindly take charge of this daily task. The device has a 6-place setting for your tableware and 7 washing cycles. Choose the preferred one, considering the level of your dishes' dirtiness, free time availability (fast mode or standard).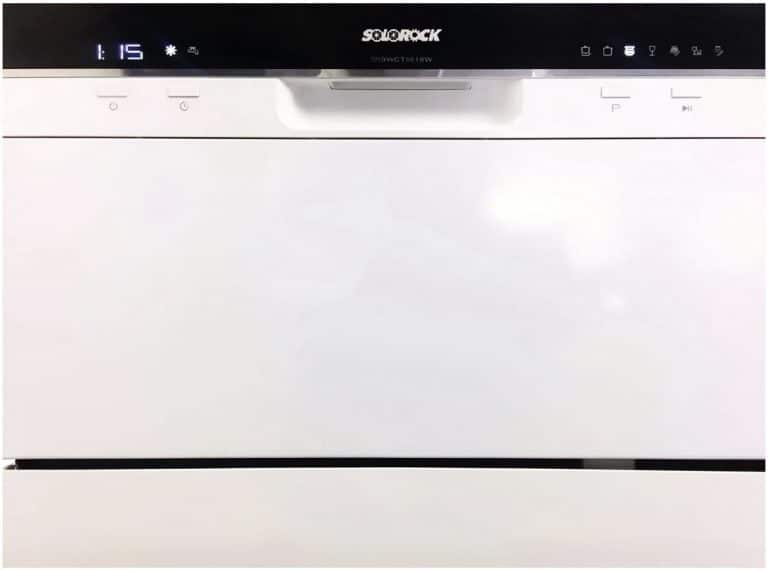 Dimensions: 17.32″ x 19.69″ x 22.05″ (H x W x D)
Capacity:  6 place setting
Cycles: 6 Wash and Rinse Cycles
Finishes: Stainless steel
Type: Freestanding
The presented SoloRock dishwasher has a 6 placed setting for different tableware items. The product is a standing alone appliance that may be placed in any kitchen (even a tiny one). Its white case is added with black digital control panel harmoniously. The device's case is durable enough due to qualitative stainless steel. The appliance is added with a quick installation set (original hoses and adapter).
The product is supplied with a 1-year warranty. The SoloRock tiny countertop dishwasher features low water consumption though it guarantees high-quality dishes washing. It offers a special pre-rinse cycle, so one has no need to rinse dishes before the basic washing cycle. The device operates quietly (one may hear some noise during water draining only).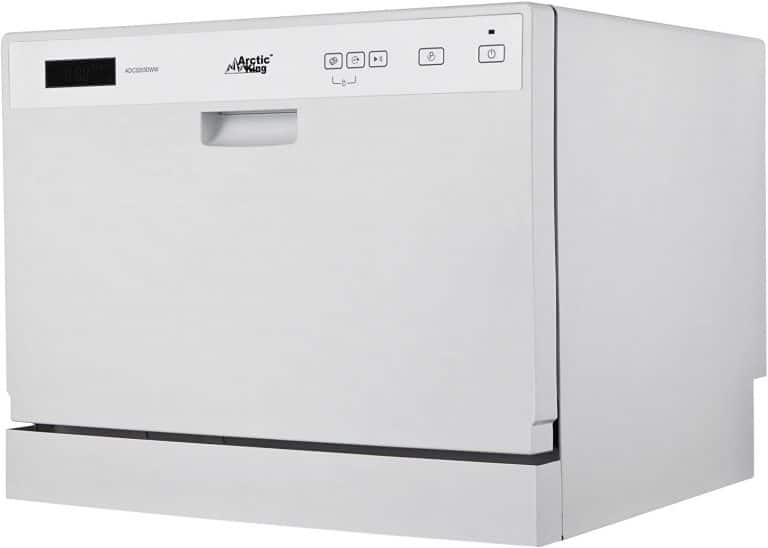 Dimensions: 19.7″ x 21.7″ x 17.2″ (H x W x D)
Capacity:  6 place setting
Cycles: 6 Washing Programs
Finishes: Stainless steel
Type: Stand alone
The reviewed Midea countertop dishwasher astonishes with a low noise level. It is 53 dB only! The top side of the door is complemented with a convenient, user-friendly digital display. The timer is located at the left corner, and 5 basic knobs – at the right. The countertop dishwasher is made of stainless steel, so it may be characterized as durable and secure enough.
There is a 6 place setting for dishes inside and 6 smart washing programs.  This is a stand-alone device that will laconically add any kitchen interior. Taking into account multiple countertop dishwasher reviews, it demonstrates a high-efficiency index and perfect results (dishes and cups are perfectly clean and fresh). The installation of the appliance is pretty easy and fast (approximately 20-30 minutes).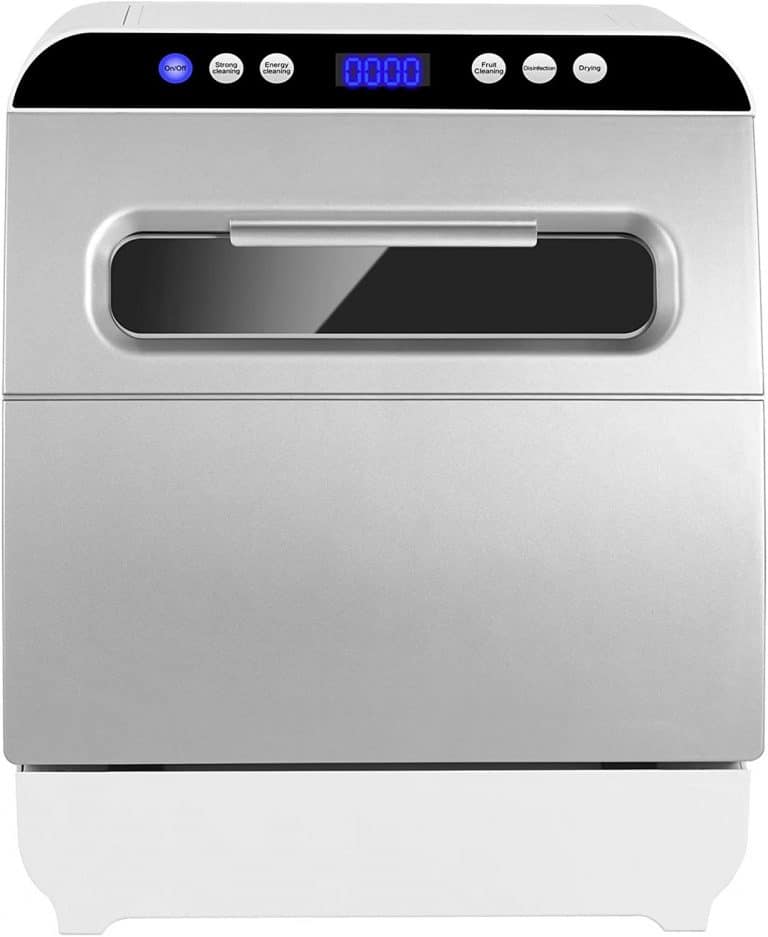 Dimensions: 20.9″ x 17.3″ x 17″ (H x W x D)
Capacity:  6 place setting
Cycles: Strong Cleaning, Energy Cleaning, Fruit Cleaning, Disinfectionand Drying
Finishes: Plastic and metal
Type: Stand alone
This dishwasher will pleasantly surprise you with its unusual, modern design. Using the hoses and adapter (included in the kit), install the device, and start using it. 6-place setting for the diverse tableware is spacious enough, so you could put there all the items that need to be thoroughly washed. 5 washing programs are available in order to provide your dishes individual treats.
The presented countertop portable dishwasher is added with the Air-dry option and allows you to take the dishes out not only clean but also dry. Its silver case is attractive and will fit perfectly into any kitchen interior. Among standard basic options, the device features a fruit washing cycle – it will take care of the perfect purity of your favorite fruits. This compact countertop dishwasher will also delight you with the unique Disinfection cycle – be sure to get rid of all harmful bacteria and viruses!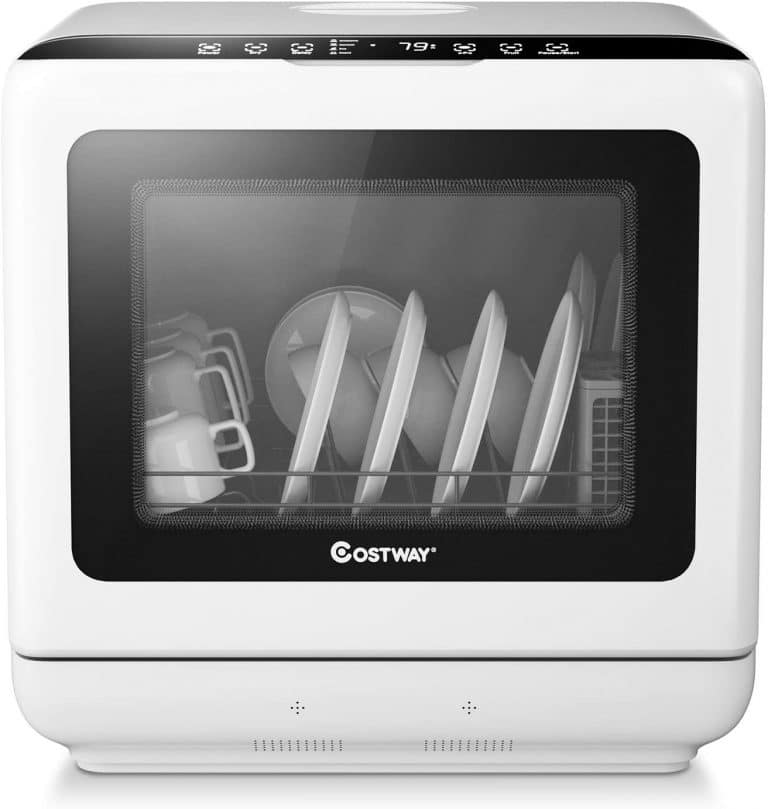 Dimensions: 18″ x 17.5″ x 18″ (H x W x D)
Capacity:  6 place setting
Cycles: Normal, ECO, Intensive, Rapid and Fruit Wash)
Finishes: Plastic (ABS)
Type: Portable, built-in
The observed Costway dishwasher has a stylish appearance and multiple peculiar features. These are the following: built-in water tank (5 liters capacity), 5 washing cycles, Air-dry optionю The device provides users with a choice of the water supply type. You can connect the dishwasher to a faucet and use the water supply directly from the plumbing.
The second option is to fill the built-in tank with water and use it for the device operation. The door of the dishwasher is transparent, so you may watch all the process of how your dishes become crystal clean. Applying the Air-dry option, you may either make your tableware dry or disinfect it (the hot air inside reaches the 149°F temperature). This is one of the smallest countertop dishwashers and is frequently chosen to add tiny flats and houses.
Guide to Buying the Best Countertop Dishwasher
View the most common quaetions and answers, connected with the best countertop device selecting, installing and exploiting.
Are countertop dishwashers any good?
Purchasing the compact portable dishwasher, one should note that it is surely efficient, nevertheless should not be compared with large, stationary devices. Having figured out how do countertop dishwashers work, you will understand why these appliances are less powerful than their built-in large competitors. If you hesitate to purchase such equipment, recommend you to buy the used device (features modest price). Such countertop dishwasher for sale may be often met at online stores.
How do you hook up a countertop dishwasher?
Most countertop dishwashers reviews confirm that modern dishwashers include special assembly set for easy and quick connection. These are hoses, fastenings, and universal adapters. Unpack the device, mount dishwasher to granite countertop (or other stable, smooth surface), read the installation instruction thoroughly. One hose should be hooked up to your kitchens faucet (lets the water to pour in), the other – to the sink drain system (lets the water to pour out).
What is the best countertop dishwasher?
Choosing the best product, one should take into account several nuances. These are the dishwasher's dimensions, functionality, appearance (color, design, case, and interior spare parts material), price. Having determined all these points, you will indeed select the best product for your family. We recommend having a closer look at such brands, like SPT, Farberware, Edgestar. If you dream of installing dishwasher under granite countertop, be ready to purchase a stationary appliance solution. The majority of portable dishwashers are installed on the countertop – this feature makes it easy to move from place to place when needed.
How do you clean a countertop dishwasher?
The question of the dishwasher cleaning is always relevant. Fortunately, today every second portable dishwashers countertop is added with the self-clean option. This greatly simplifies the maintenance of this technique and guarantees the destruction of the microbes from the dishwasher's internal surfaces. Nevertheless, some users apply mini countertop dishwashers that cannot boast of such an option. In this situation, manufacturer advises to clean the inside surfaces once a week with a wet, soft cloth. You can use a small amount of detergent (without abrasive particles and toxic components) to clean the inner surfaces of the dishwasher if it is heavily soiled or there are scale deposits on its walls. Don't forget to ventilate the appliance by leaving its door opened overnight (and also when not in use).
machineswash.com is a participant in the Amazon Services LLC Associates Program, an affiliate advertising program designed to provide a means for sites to earn fees by advertising and linking to Amazon.com.