The 7 Best Black Dishwashers of 2020 - Attractive design and Proven Functionality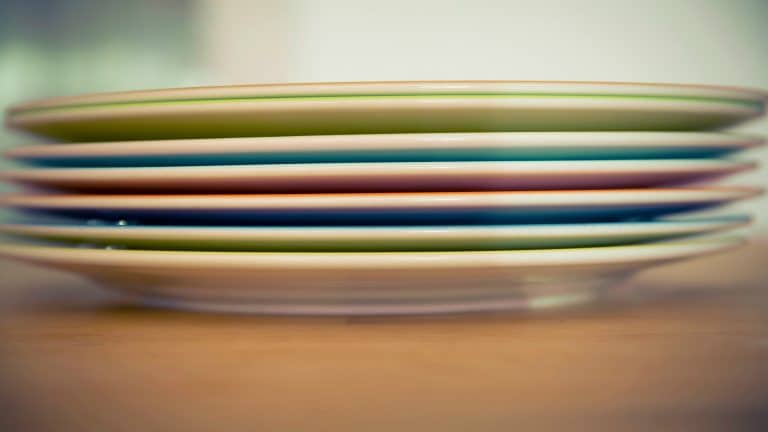 LAST UPDATED: DECEMBER 08, 2020
It is not easy to say what appliance finish is popular the most. The black color cannot be considered as a top choice, but it looks very stylish. Thus, we suggest a black dishwasher to add to your kitchen interior. This color has won fans recently. This is a growing trend as far as people want to change their design and try other solutions instead of white and silver. You should agree that a black stainless steel dishwasher is not traditional; that is why it looks different. And it is neutral going almost with any other tones. There are no reasons to be afraid of it. Just try it and you will see how forgiving this color and how classy the look of your kitchen will be with a black dishwasher. We're going to deliver a list of the best small countertop dishwasher (and some others) in this color below.
Our Top 7 Best Black Dishwashers: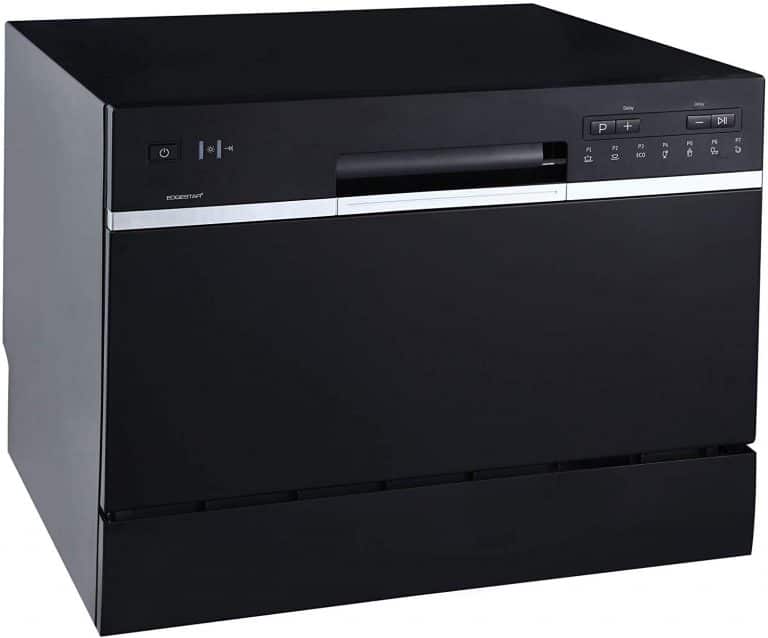 19.6 x 21.6 x 17.3 inches
Ideal decision for small kitchen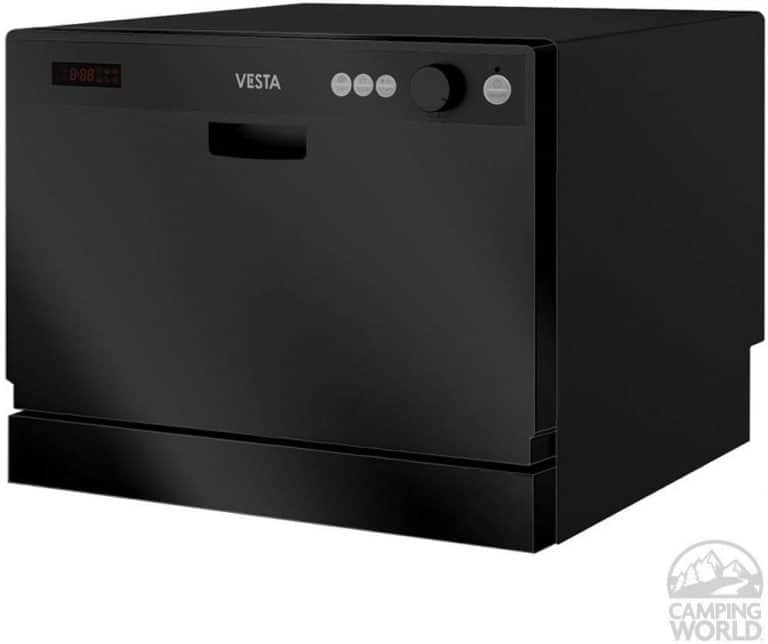 21.7 x 19.7 x 17.2 inches
Compact, stylish and enduring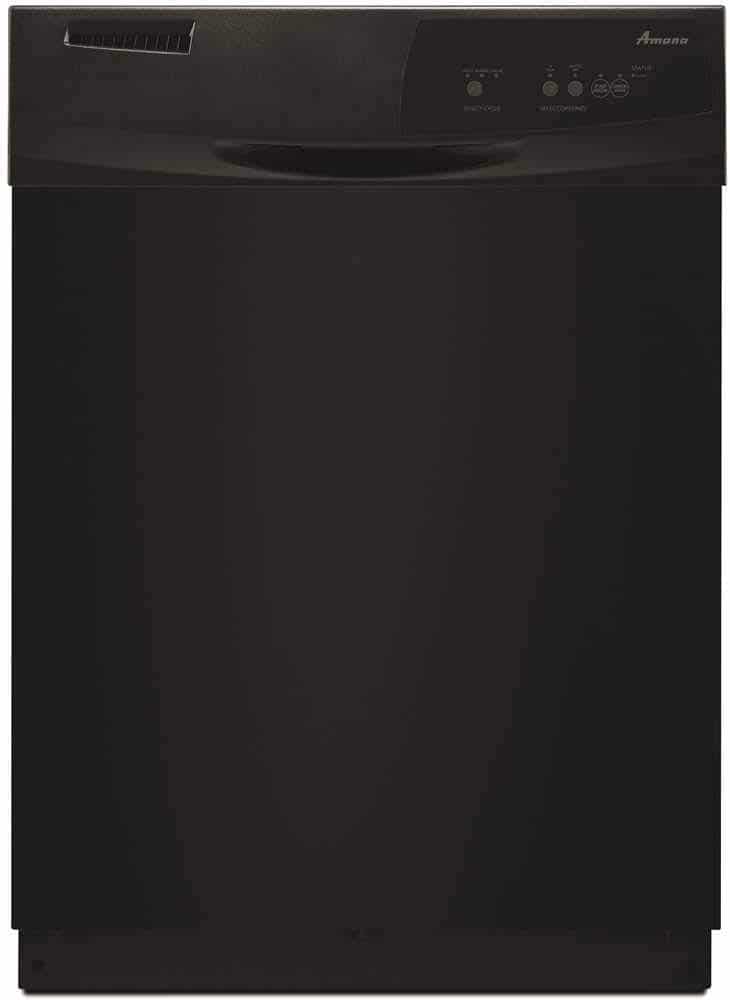 22.4 x 17.6 x 32.5 inches
Low water and electricity consumption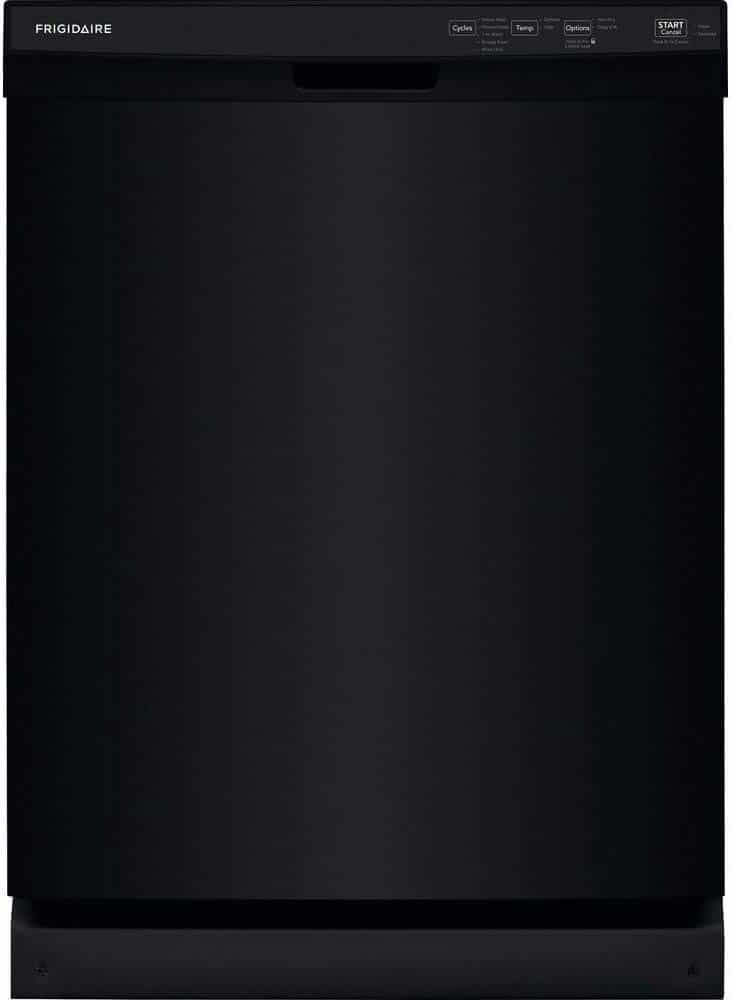 23.6 x 33.9 x 23.7 inches
The most silent operating dishwasher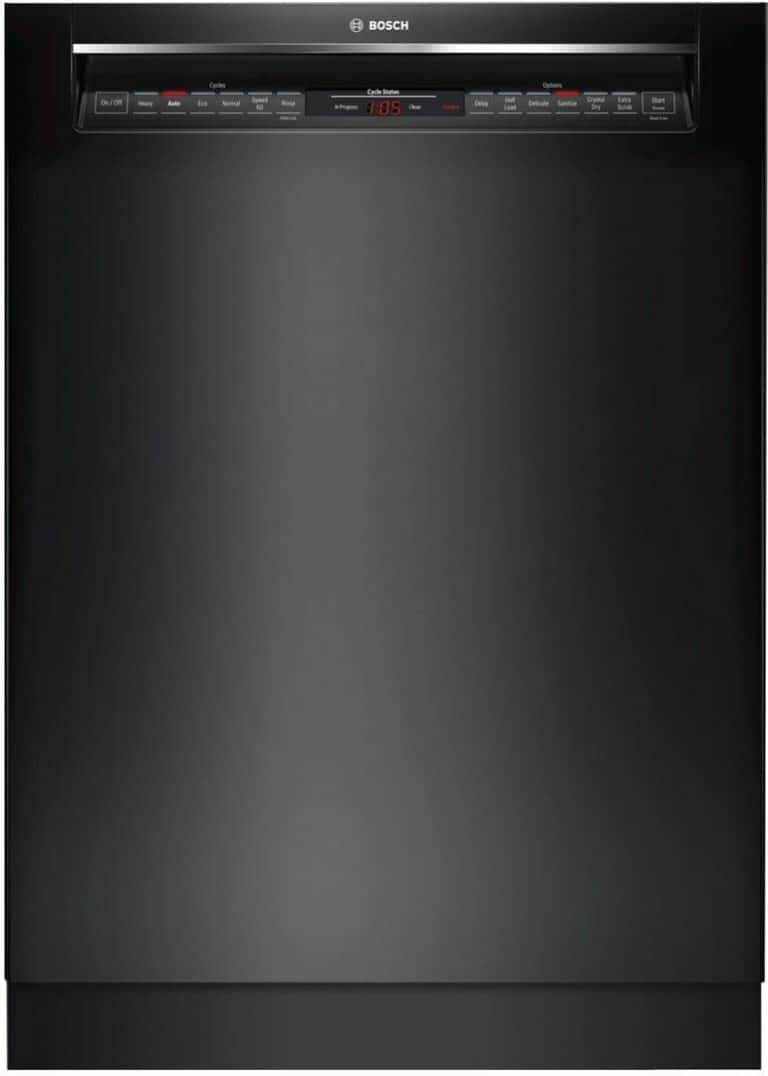 23.6 x 23.8 x 33.9 inches
Wide list of options, high-quality washing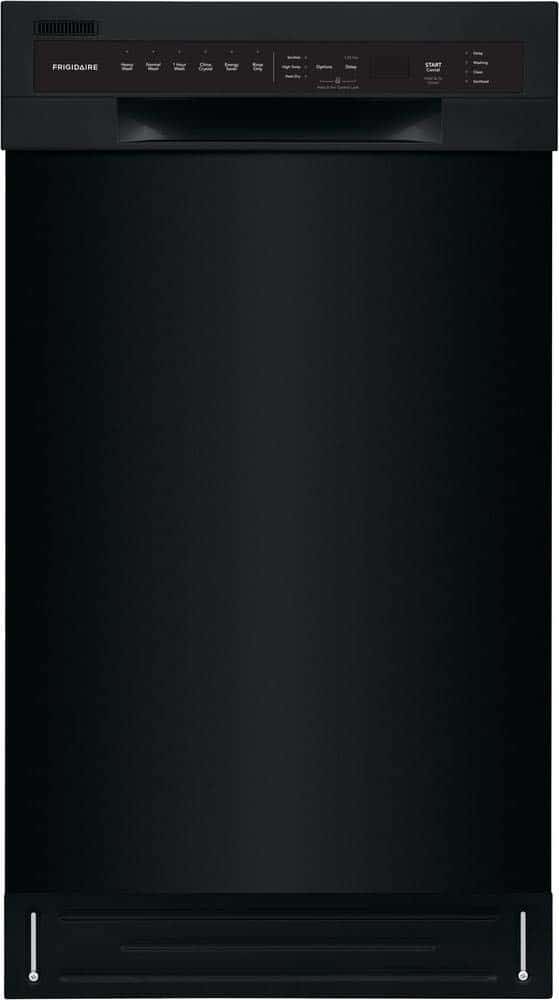 22.4 x 17.6 x 32.5 inches
Copes with serious impurities easy and quick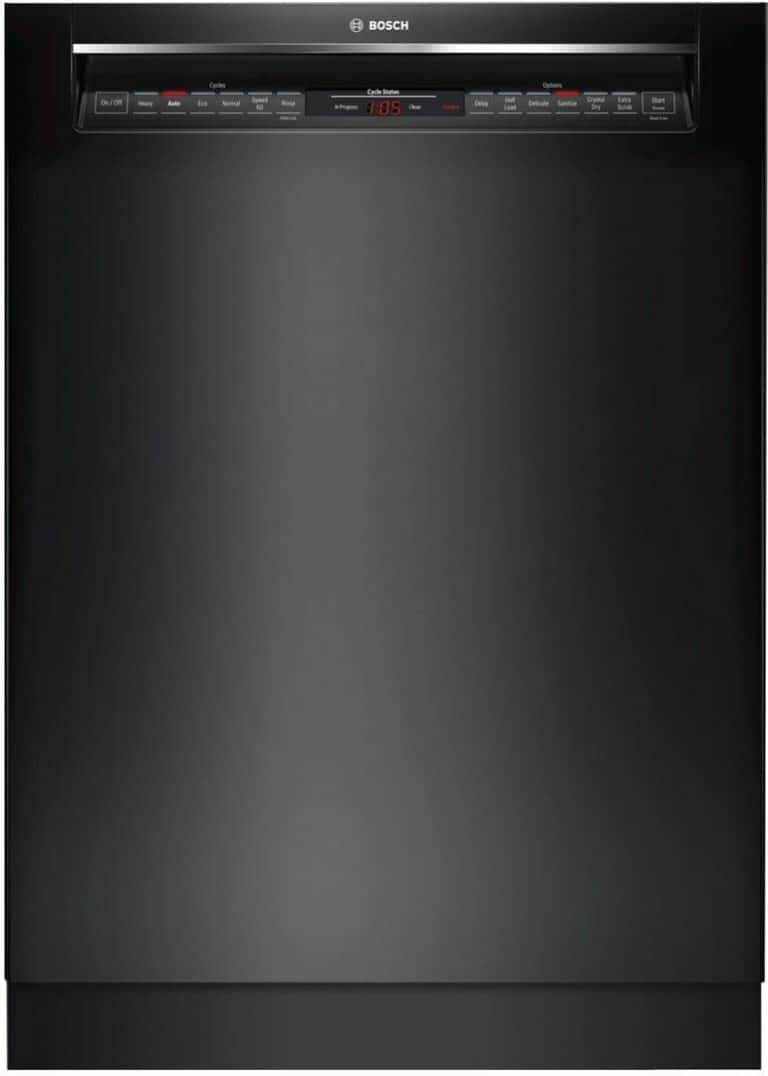 Stylish and functional built-in solution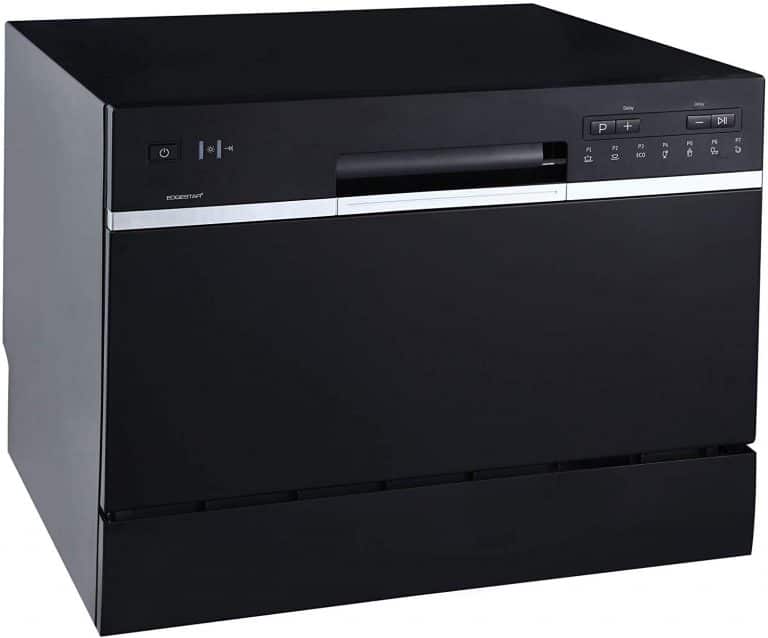 | | |
| --- | --- |
| Quiet: |   |
| Size: |   |
| Hardware: |   |
| Price: |   |
EdgeStar DWP62BL countertop black portable dishwasher is Energy Star rated having a stylish design with the stainless steel interior and digital display. You can install it under cabinetry without any additional tools. It consists of a dish rack, a shelf for 3 or 4 cups and a basket for cutlery being suitable for six place settings. This black dishwasher is compatible with any faucet due to the faucet adapter in the package and allows you to choose one of 7 wash cycles. If you prefer the normal mode, it will consume 2.85 gallons of water. There is a dispenser for detergent and rinse aid. In order to achieve the proper result, use the recommended detergent only.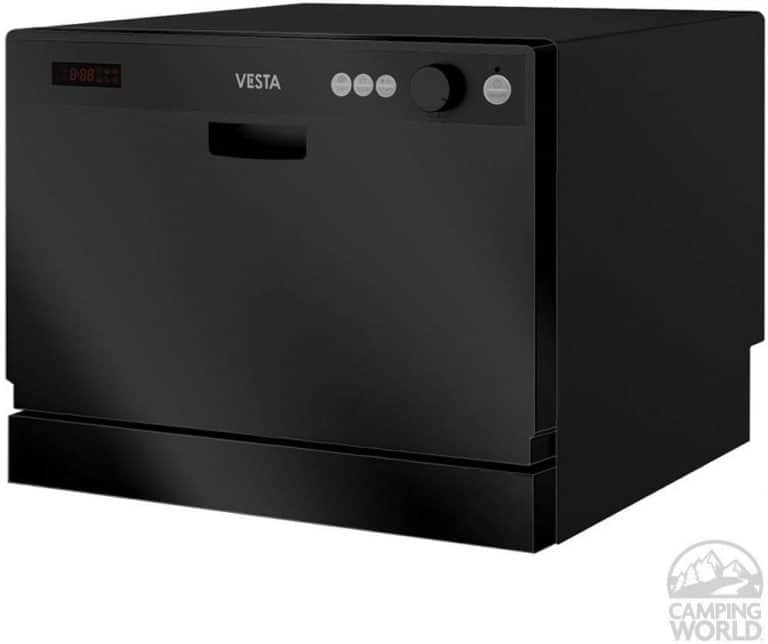 | | |
| --- | --- |
| Quiet: |   |
| Size: |   |
| Hardware: |   |
| Price: |   |
WESTLAND SALES DWV322CB countertop black dishwasher is an ideal choice for small apartments and offices. Still, it does the same job the full-sized appliances do. It features the place-setting cap and cutlery basket. This black dishwasher includes a kit connecting directly to a faucet. You should buy a quick-connect faucet adapter separately. The appliance includes five wash cycles and can perform self-diagnostics. The dishes are dried by a convection method here. If there is a need, you can apply the delay start button. Also, you can place the black dishwasher on a counter or build it into a cabinet. You will do it better with the built-in hose kit, which should be bought in addition.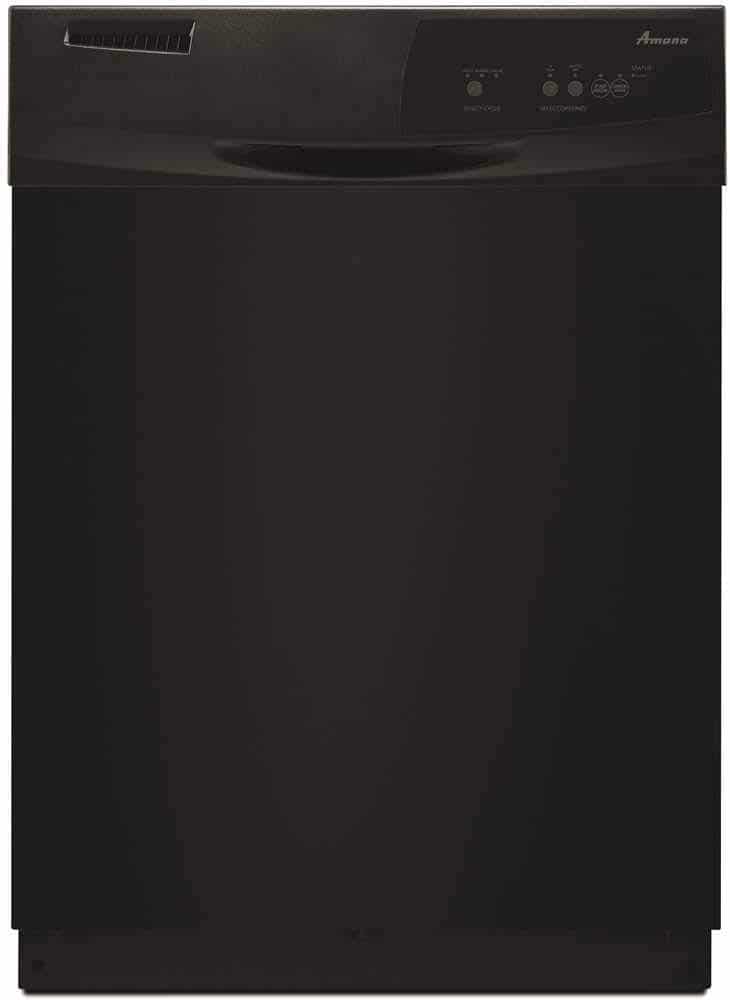 | | |
| --- | --- |
| Quiet: |   |
| Size: |   |
| Hardware: |   |
| Price: |   |
Amana ADB1400AG black stainless dishwasher with a tub made of plastic is intended for 12 place settings. The racks are made of vinyl. There is no culinary basket but you will find a bottom rack here. Being well-designed this black dishwasher has simple controls in the form of the plastic push buttons on the front console. There is no window to watch the process. The black dishwasher features the triple filter wash system clearing off every dirty stain during a much shorter period. The high-temperature wash option and extra rinse add to the brilliant result. The heated dry option makes the drying process faster. This appliance is Energy Star rated consuming fewer resources and reducing your expenses.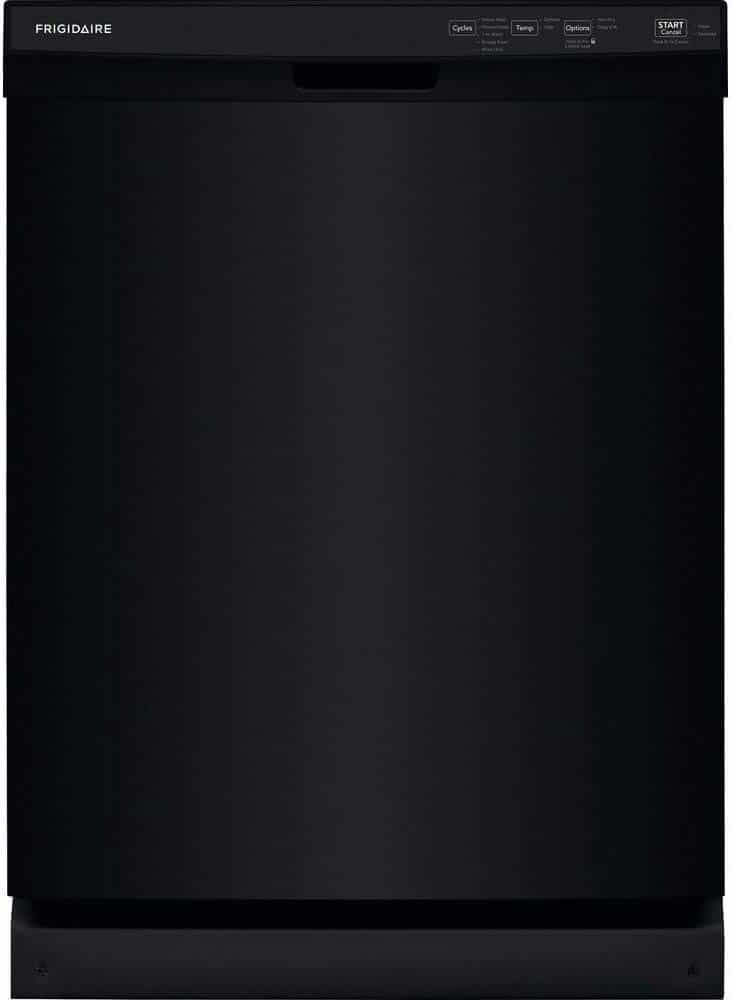 | | |
| --- | --- |
| Quiet: |   |
| Size: |   |
| Hardware: |   |
| Price: |   |
Frigidaire FFCD2418UB black dishwasher provides five wash cycles. It is Energy Star certified helping to save your money. Also, the appliance is NSF certified meaning it can remove common bacteria from the dishes. This black dishwasher runs quietly. Being rather compact it is designed for 14 place settings. The door can be open at whatever angle allowing you to load and unload as you want. Three separate spray arms are cleaning the dishes in the proper way. You will benefit from the multiple cleaning cycle options, which are extremely easy to apply choosing the right one following your current needs. The LED lights on the console will show the performances applied to the cycle.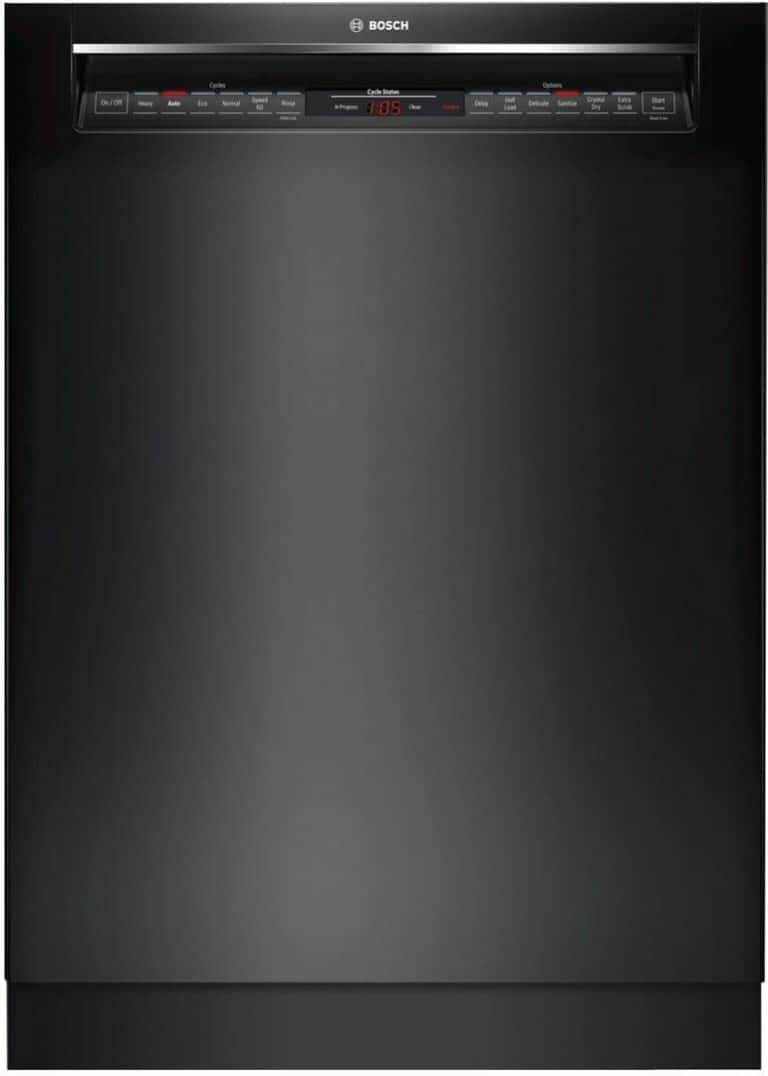 | | |
| --- | --- |
| Quiet: |   |
| Size: |   |
| Hardware: |   |
| Price: |   |
Bosch 800 SHE878ZD6N black dishwasher is Energy Star certified. It is well-designed being equipped with a very capacious tank, flexible third rack, and recessed handle. The racks move smoothly due to the EasyGlide rack system. There are three height levels for racks allowing to fix them in 9 positions. This black dishwasher features six wash cycles and plenty of useful options like ExtraScrub and Sanitize providing more than just removing the leftovers and stains. The patented CrystalDry technology guarantees even better drying of the dishes. You can adjust the settings to your needs in a fast manner using the convenient touch controls. The black dishwasher is not heard at all when it runs.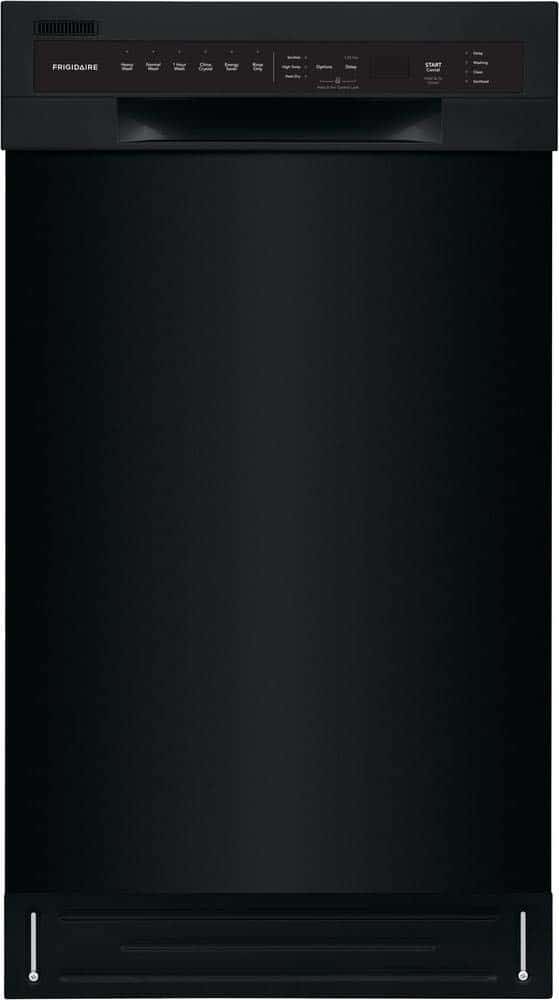 | | |
| --- | --- |
| Quiet: |   |
| Size: |   |
| Hardware: |   |
| Price: |   |
Frigidaire FFBD1831UB black dishwasher is of a built-in type. It offers a wide variety of wash and rinse options providing the proper result together with a saving of the consumed water and electricity. It comes with the complete owner's guide and installation instructions. The black dishwasher includes the full console showing the current settings. It is very powerful with the top and bottom rack dual spray arm system providing the perfect cleaning without a failure. You can apply the 24-hour delay start allowing you to set this black dishwasher to operate up to 24 hours beforehand.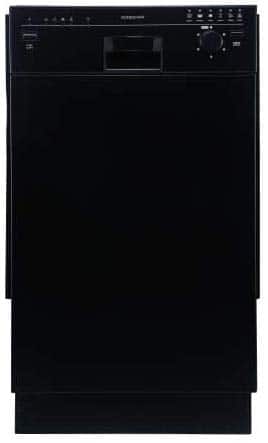 | | |
| --- | --- |
| Quiet: |   |
| Size: |   |
| Hardware: |   |
| Price: |   |
EdgeStar 18 inch black dishwasher suggests you choose any of 6 possible wash cycles you want at the moment. There is even the mode for glass. This black dishwasher can boast of a compact design with the capacious interior accommodating eight place settings. There are two racks which can be easily pulled out, cup tray and silverware basket. The control console includes the controls and the light indicators informing you of the set cycle.
Guide to Buying the Best Black Dishwasher
If you decide on a black dishwasher, you can extend the above list because there are other manufacturers worthy of your attention. For instance, consider a black whirlpool dishwasher or other brands. Almost any reputable large producer offers a black dishwasher in their series. You should know that such coverage is not scratch proof. Still, it is scratch-resistant and does not show fingerprints. The black dishwasher will match most cabinets even if the kitchen interior is not made in this color.
What is the best dishwasher?
If we speak about the best black stainless steel dishwasher, we should consider several models at a time as far as the performances differ, and you have to choose following your budget, needs, and space available. You can prefer black portable dishwasher if you are going to move it around the house. If a standard black dishwasher which is usually about 24 inches wide, does not fit your kitchen, you can prefer a more compact, 18 inch black dishwasher. As you see, some features impact the rating. Consider the dimensions, capacity, consumption of water and electricity, quiet operation, when you are looking for the best black dishwasher.
Which brand of dishwasher is most reliable?
Almost all large brands are reliable. Choose a black whirlpool dishwasher if you trust this producer. Bosh is very reputable, producing long-lasting and multifunctional appliances.  But the prices for the products of this manufacturer are rather high. If it does matter, you can pay your attention to a black dishwasher of more affordable brands like EdgeStar which are of high quality but less expensive.
Do Bosch dishwashers come in black?
You will definitely find a black stainless dishwasher in the assortment of this brand. You can consider both 18 inches and 24 inches widths and diverse designs. These appliances are as good as they look being reliable, functional, and beautiful. Remodel your kitchen just with one item – integrating a black dishwasher into your interior. If you compare it with other popular brands for instance, we'd say that it is more expensive addressing the needs of users looking for the mid to high-end appliances. Bosh black dishwasher features a more elegant finish. Besides, it is a leader when we speak about a quiet operation.
Machineswash.com (c) 2020
machineswash.com is a participant in the Amazon Services LLC Associates Program, an affiliate advertising program designed to provide a means for sites to earn fees by advertising and linking to Amazon.com.